The British tailor Ascots & Chapels is embarking on a Dh50 million (US$13.6m) expansion across the Middle East and South East Asia.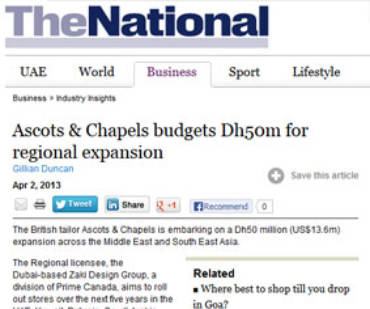 The Regional licensee, the Dubai-based Zaki Design Group, a division of Prime Canada, aims to roll out stores over the next five years in the UAE, Kuwait, Bahrain, Saudi Arabia, Turkey and in Malaysia's Kuala Lumpur. It will open three outlets this year, one on The Pearl-Qatar in Doha in the next three weeks, and two this summer in the Emirates, where it currently has four stores.
"We have signed up Nation Towers on the Corniche in Abu Dhabi and The Galleria at Sowwah Square, which I think is going to be the 'it' place [when it opens]," said Zaki Ali, the head designer and managing partner of Zaki Design Group.
He added that the brand also aims to open stores in the capital at Yas Mall, which is due to open in the first quarter of next year, and The District on Saadiyat Island, when it launches in 2017.
The brand hopes to open between 15 and 20 outlets across the Middle East and South East Asia as part of the five-year expansion, but location is crucial, said Mr Ali.
Read More