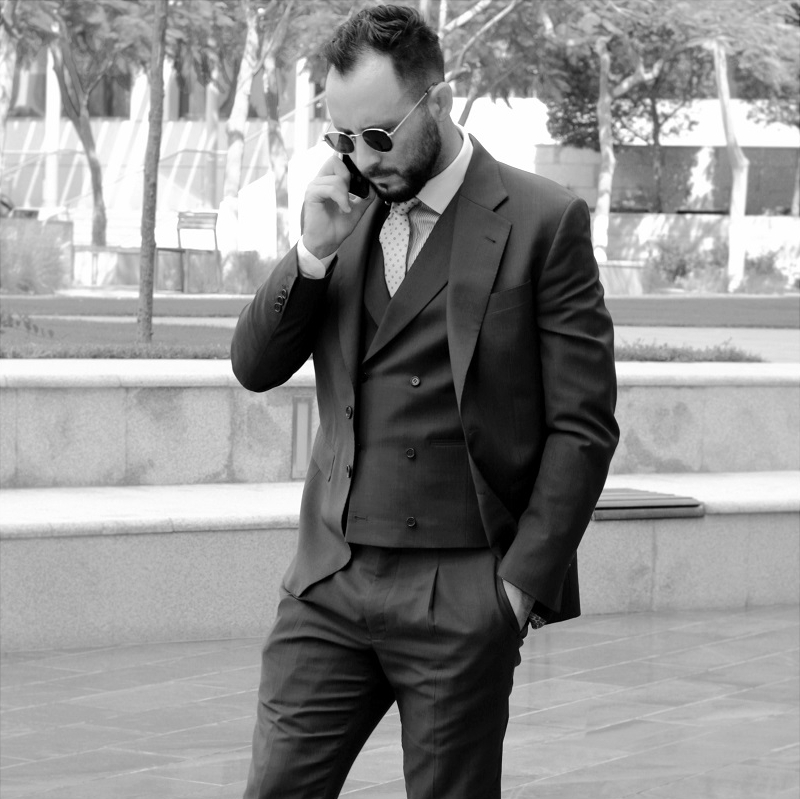 Dress your age (and avoid these bad fashion habits) 
Setting intentions and goals for the year ahead? Perhaps your focus has shifted to your everyday style. There's no denying how one presents himself is important. It shows when you take pride in your appearance – and there's no shame in that. Plus, after the struggles 2020 brought, more people are looking to breathe life into a tired working-from-home wardrobe. Wondering how to do so at your age? Here are our do's and don'ts for dressing your age.
The Millennial (twenties and thirties)
"It's about the finishing inside the clothes, or the quality of the fabric […] you can look cheap or you can look luxurious." Anthony Vaccarello, Saint Laurent.
Your twenties and thirties are the time to have some fun with fashion. You've still got plenty of time to come back from mistakes and hone your unique personal style. However, why not kick-off as you mean to go on? Our advice for gents in their thirties is to buy quality over quantity. You may not have the same budget older men have (yet) so invest in a couple of standout suits rather than a rotation of subpar ones.
Don't be afraid of colour. There's more chance to be a little playful when it comes to accessories. Impress at a corporate event with a bright silk pocket-handkerchief or lighten up a navy suit in the summer months with a colour-pop shirt.
The Refined Gentleman (forties)
"Black is always elegant. It is the most complete colour in the whole world, made of all the colours in the palette." Riccardo Tisci, Burberry.
Somewhere in between a young and old adult? Lucky you! You've left too-skinny silhouettes behind you in your teens and you're not trying to rock dated cuts, either. In your forties, the idea of a classic black blazer being an essential piece really makes sense. You should be well on your way to solidifying a capsule wardrobe of hero pieces that really suit you. (And, if you're not, that's what we're here to help you with.)
Look to style icons like David Gandy, who just entered his forties, and how he always looks tailored and polished. Often seen in black, he leaves fleeting trends to the up-and-coming stars, instead having the confidence to don classic suiting. When we look back at pictures of Gandy in a checked waistcoat and crisp white shirt, there's a certain timelessness about his style. He's often seen in a full suit and luxury tie and if he is working an off-duty ensemble, you can bet his jeans will be well-fitted and offset with a linen shirt or structured blazer.
The Silver Fox  (fifties)
"I only like luxury fashion. You have to decide where you stand. I like well-made authentic clothes, well-crafted tailoring. I also like the dream and fantasy of luxury." Hedi Slimane, Celine.  
Dressing in your fifties and beyond can be harder to navigate if your body is no longer in your prime. Now we're not saying everyone's succumbed to the infamous 'dad bod' but there may be certain areas you want to highlight and others you wouldn't mind drawing the eye away from. Wearing untailored clothes will undoubtedly age you; a bespoke suit will look infinitely better than an off-the-rack number so trust your tailor and ooze luxuriousness.
Naturally, our bodies change with age so bear in mind an old go-to suit may not be the most flattering option any more. Far too many men we meet are wearing the wrong size, assuming their body has remained the same for the last twenty years – and, trust us, ill-fitting clothing is a surefire way to age your look.
Opt for fresh linen or organic cotton instead of reaching for tweed. Whilst heavy tweed has its moments in the fashion spotlight now and then, it can look frumpy as we get older and doesn't streamline your appearance in the same way lighter fabrics can.
"Look ahead, think about how you can evolve and become better at everything you do." Tommy Hilfiger, American fashion designer, approaching his seventies
Over to you gents, do you find it easy to dress your age? Have you been making any fashion faux pas that you'd dare tell us about?
---
Author: Gary Sweeney
---