The roots of today's Western business suit can be traced back 200 years to London. Now, the traditions and expertise of that city's Savile Row are available in Dubai for discerning dressers.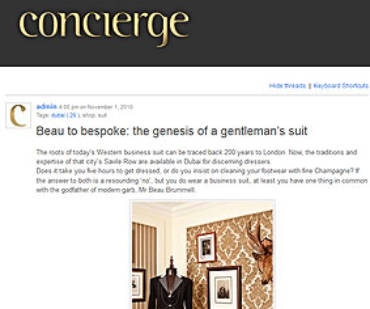 Does it take you five hours to get dressed, or do you insist on cleaning your footwear with fine Champagne? If the answer to both is a resounding 'no', but you do wear a business suit, at least you have one thing in common with the godfather of modern garb, Mr Beau Brummell.
If the name sounds oddly familiar, that's because the British dandy's moniker has been immortalised in popular culture from ballads to the big screen.
In the 1800s, Brummell popularised the full-length trousers, jacket and neck tie ensemble that has over the years morphed into the modern suits we see and wear today. At the time, his radical dress sense and attention to grooming etiquette may have made Brummell an oddity, but few these days would argue with his belief in bathing every day (though few doubt the best use for Champagne).
Read More