Gift your dad a bespoke suiting experience by Ascots & Chapels, British luxury couturier, to celebrate your father's presence in your life and say that you care.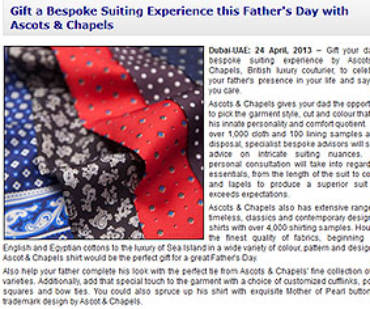 Ascots & Chapels gives your dad the opportunity to pick the garment style, cut and color that suit his innate personality and comfort quotient. With over 1,000 cloth and 100 lining samples at his disposal, specialist bespoke advisors will share advice on intricate suiting nuances. This personal consultation will take into regard key essentials, from the length of the suit to collars and lapels to produce a superior suit that exceeds expectations.
Ascots & Chapels also has extensive ranges of timeless, classics and contemporary designs in shirts with over 4,000 shirting samples. Housing the finest quality of fabrics, beginning from English and Egyptian cottons to the luxury of Sea Island in a wide variety of color, pattern and design, an Ascot & Chapels shirt would be the perfect gift for a great Father's Day.
Read More