Visiting a tailor can be an overwhelming experience if you don't know exactly what you want. Chris Butler takes you through the finer details.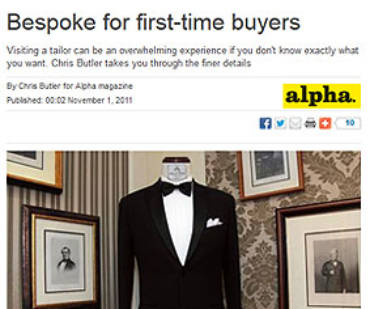 Tailoring is woven into the city's culture, as well as being one of the foundations of Dubai's booming retail sector.
With no shortage of talented tailors in town, getting a suit knocked up is an affordable way to customise your wardrobe and have complete control over the design, fit and material of your outfit.
By getting the most out of your tailor you can take a standard suit and introduce eye-catching personal touches that will take it to true bespoke standards.
Why bespoke?
Quality tailoring has always been the backbone of men's fashion. Since the emergence of men's fashion blogs and TV shows like Mad Men, appreciation for tailoring has been brought into the spotlight for style-conscious men with more emphasis on quality and design. However a trip to the tailor needn't be the same old cookie cutter experience for everyone. By getting the most out of your tailor you can take a regular suit design and add those vital finishing touches to bring it up to true bespoke standards.
Read More