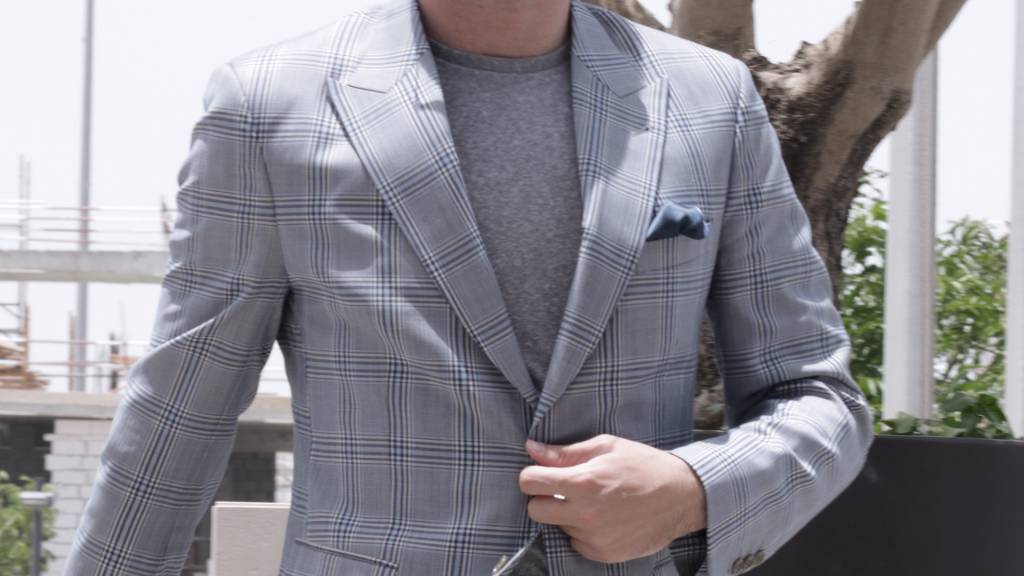 Today, we're clearing up once and for all the debate of our times.
Sport coat vs. blazer vs. suit jacket.
It's certainly a conundrum. These options confuse even the seasoned fashion gent so you're forgiven if you feel a bit like you don't know where to start. What's the difference and when is the appropriate time or occasion to wear each one?
Let's dive into each style and their differences – including which is your best bet for new working-from-home measures. Trust us, a sloppy tee just won't cut it; a smart jacket aids your attitude, professionalism and looks better on video calls!
The sport coat
"We must never confuse elegance with snobbery." Yves Saint Laurent, French fashion designer
A sport coat or sport jacket (referred to as a sports coat or jacket in the States) is a men's smart casual lounge jacket.
You can purchase matching trousers or wear it with other styles. Traditionally, the sport coat was designed for outdoor sporting purposes (who'd have thought it…). Now though, you can throw one on for formal occasions paired with well-pressed trousers, brogues and a crisp shirt and tie combo. They can be dressed down with jeans and a T-shirt as a more refined option than say a hoodie or bomber jacket.
Sport coats tend to be a lot more varied than suit jackets and are usually designed in thicker, sturdier fabrics. Think: tweed, corduroy, leather, denim and suede. Probably the most comfortable of these three core styles, it's a less restrictive option due to being unstructured with the half lining feature. Read: the perfect option when you're WFH but still need to look smart on all those Zoom calls.
Sport coat styles include the shooting jacket, the double-breasted design, and the lighter summer version.
The blazer
"The combination of a blazer over any T-shirt with a pair of jeans is foolproof." Ryan Seacrest, American TV personality
A blazer is distinguished from the aforementioned sport jacket by being more formal – it's usually tailored from solid colour fabrics. The blazer is closer to a suit jacket, yet cut more casually.
While the sport jacket naturally has sporting origins, the blazer's heritage comes from boating club attire; modern iterations often still have naval-style metal buttons as a reflection of this.
Intended for outdoor wear, you'll find a blazer's cloth durable and warm. So when to wear this key piece? It's recommended to don one whenever a suit is inappropriate but you still need to dress up.
The suit jacket
"If you wear a suit, you can talk to anybody." Lewis H. Lapham, American writer
Last up, it's the inimitable suit jacket. Also known as the suit coat, lounge coat or lounge jacket, call it what you will, you need a few of them in your style arsenal.
Of course, the suit jacket comes as part of a set with matching trousers – also known as, well, a suit. There are different suits for different occasions. You might invest in a dinner suit for black tie invitations, as well as a business suit (or five) for your working week wardrobe.
When it comes to the suit jacket, you can go for a single-breasted or double-breasted design. You can choose a notched, peaked or even a shawl lapel. The possibilities really are endless. Will you choose a single vent, double vent or vent-less style? Three buttons at the cuff, or four?
Whatever you go for, remember that the suit jacket is a timeless investment. A bespoke option, custom-made by an expert tailor, will provide the very best fit for your height and build, and ideal fabric choice for your colouring.
Fabric wise, the suit is most commonly made in wool. Depending on the weave, you have gabardine, tweed or flannel to consider. Then, of course, there's the matter of block colour, pinstripe or check print.
Choices, choices
So when it comes to the sport coat vs. blazer vs. suit jacket weigh-in, that's a wrap. But if you're feeling overwhelmed or have any questions at all, simply contact our master tailors today.
Not only can they give you a professional guide through the various outerwear key pieces, they'll also be delighted to create your new sport jacket, blazer or suit to your ideal specifications. Because even if you're at your home office, you still want to look super-professional for the (digital) board meeting.
We look forward to speaking to you soon!
---
Author: Gary Sweeney
---