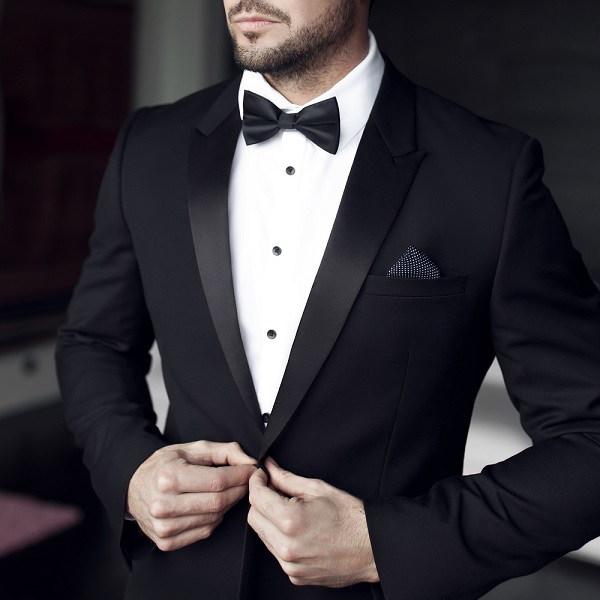 Literally all you need to know about black and white tie dress codes
Could this be our most helpful blog article yet? Our expert tailors are about to explain black tie and white tie. We're deep-diving into the dress codes, and pretty much summing up everything you need to know to get it right.
"Help! What do they mean? What's the difference between the two? When are they used?"
OK, one question at a time! Black tie and white tie refer to different dress codes. When you're invited to any kind of event, if it's important, the dress code will be stated. Many people wrongly assume that black tie is the most formal dress code there is. However, white tie completely trumps it (it's just not as common). Because having a white tie dress code indicates that the guests are titled, royal or have an extremely high social status.
You'll probably come across many more black tie events in your life. And we're not saying that's because you don't have a high social standing! It's just black tie events are more common for 'everyday' celebrations, such as award ceremonies, weddings and gala dinners, for example.
And here's a little tip, white tie might also be described (somewhat confusingly) as full evening dress, tails or dress suit. These all indicate white tie so watch out for different wording across invites! Oh and evening dress (without the 'full') is a variation on black tie. So now you know…
"OK, that makes sense. But what are the individual pieces I need to wear for each one?"
And here's where we get to the nitty gritty. We'll take you from top hat all the way down to shoes.
White tie
You might have guessed it, for white tie, a white bowtie is a must. It's also essential to wear a white waistcoat and tailcoat. On top of this, you need a stiff white dress shirt, quality cufflinks, black dress socks and smart black patent leather shoes.
Black tie
When it comes to black tie occasions, you must wear a dinner jacket with matching trousers and a pleated white shirt. The look is completed with black formal shoes and a smart bowtie. For black tie, you have the option to choose whether to wear a waistcoat or not. Whilst it's not a prerequisite, here at Ascots & Chapels, we'd certainly suggest you go all out. It's not like black tie events happen every week and it's fun to dress up for special occasions!
As you can see, there aren't quite as many formal rules for black tie as there are for white. In fact, as the golden age of Hollywood evolves into something a little more experimental, you'll often see male celebrities updating their black tie look with bold coloured dinner jackets or statement bowties. Our advice? Consider the event and who's hosting. It may be appropriate to experiment a little but, at other times, it's best to err on the side of caution and stick to the rulebook when it comes to smart style.
"Got it! So how do I go about building my own black and white tie wardrobe?"
Honestly, the key to nailing your black or white tie look is all about the fitting. The fit of the outfit is a major pitfall at formal events and we even see celebrities criticised about this online. If your suit is ill-fitting or not tailored to a great standard, you may as well have turned up in jeans and a tee!
We also recommend investing in dress shirts. Having a well-tailored, crisp white dress shirt is something you'll always need. You never know when you will next be invited to a formal event and having your wardrobe prepped is a great idea. Be sure to invest in at least one decent tuxedo as well so you always have a go-to for any event that black tie is required for. Some men make the mistake of renting when they need to but this actually works out to be far more expensive in the long run – plus you can never guarantee the standard or fit of the dinner jackets (or put your signature touch on it).
Any other questions? Just hit us up in the comments and we'll be happy to talk through black and white tie even further. And if you've already got an event coming up: enjoy!
---
Author: Gary Sweeney
---