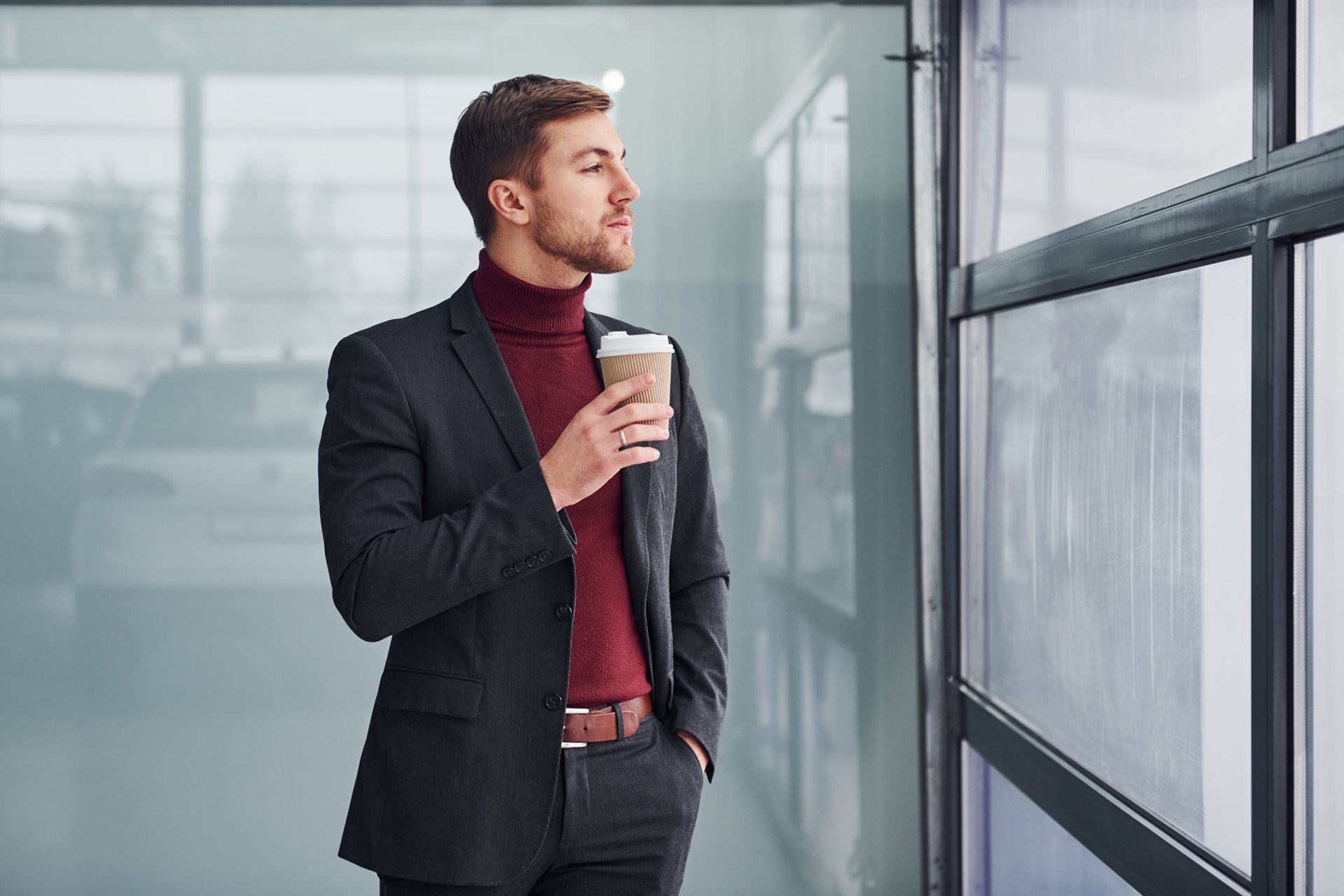 We've said it before and we'll say it again but 'smart casual' is *the* hardest dress code for people to get right. It shouldn't be, but it is. And, despite our best efforts at Ascots & Chapels, many gentlemen just can't get their head around what to wear, what not to wear, and where they should be flaunting their 'smart casual' or indeed 'business casual' looks. And "is there even a difference?" you ask. 
So, if this sounds like you, fear not, we're happy to run through both of the confusing dress codes in detail. And, if you think you've already hit the sartorial nail on the head and are just checking in or you're here for a refresher, hello to you too.
Let's start with the 9-5.
Business casual
"Every office interprets business casual differently. Feel out your office!" Sarah Lafleur, Canadian actress
Just as Grey's Anatomy actress Sarah famously said, we doubt there's a proper dictionary definition of 'business casual'. Because, in fact, it's an ambiguously defined Western dress code that can vary in smartness depending on the person, workplace or country.
From our perspective, it covers items like the lounge suit. So you could wear a dress shirt, tie and tailored trousers but style with a different coloured blazer or a fitted sports coat instead. You don't need to do the full shebang of a grey trouser, grey blazer and matching grey waistcoat.
As a relatively new dress code, there's less history or black and white rules to fall back on. Which is why some get it so wrong. But you're here, so you don't have to worry.
Mini history lesson for you: it's thought that the concept of casual Fridays (which originated in California in the 1990s yet were inspired by the 1960s casual custom of Aloha Friday in Hawaii) brought 'business casual' further stardom. This designated end-of-the-week day for relaxed dressing really got the dress code's name out there.  
Our top tips? It's important to still look professional and groomed. If your employer or office vibe is fairly chilled, you could get away with khakis and a fitted shirt. But if you usually follow a very strict business dress code, then you might still wish to be suited up – perhaps with a contrast blazer like we mentioned before as your flexing point.
Certainly avoid weekend items like jeans, tees and athletic wear. These aren't wardrobe staples to do business in in a corporate world. Even if you're based in a modern WeWork. And, as you might guess, it's best to not have too much body on show – keep sleeve lengths correct and don't be tempted to flash the ankle because, let's face it, you're not at a summer wedding right now chaps.
Smart casual
"The tailoring may be softer, more draped, but I don't believe it's any less smart. For sure it feels more relaxed, it's a different kind of elegance…" Patrick Grant, Scottish fashion designer
Perhaps even more wide-reaching than 'business casual', 'smart casual' could have 101 iterations. But don't be swayed by those who take things too far. The guide is in the first word – smart – which leads for a reason.
We'd define 'smart casual' as semi-informal wear; an outfit you feel comfortable in but still looks, well, smart. Because the dress code may tend to apply to an event rather than the office, biz caj and smart caj could differ when it comes to footwear. You may be able to get away with a minimal or designer sneaker while dressing smart-casually, for instance. Whereas for 'business casual', we'd still recommend a leather brogue or similar.
Depending where you are in the world, you might be fighting against too-hot-for-comfort temperatures. And if that's the case, with a 'smart casual' dress code, you can get away with short-sleeve shirts, sweat-wicking relaxed fabrics and less formal cuts. In fact, since the counterculture of the 1960s in the Western world, some would argue that for 'smart casual' most things go – if you can pull it off.
Understood?
We've let you into a little secret here. Even expert tailors can't define at 100% accuracy 'smart casual' and 'business casual'. But that's because the dress codes can have slightly different meanings (regarding what to do and what not to do) depending on the context, be it workplace, country location or event the dress code applies to. What we can tell you is that you're likely to wear 'business casual' on Friday in the office and 'smart casual' at a Saturday afternoon event.
If in doubt, err on the side of caution. So that's no garish pop colours, inexpensive fabrics or anything remotely athletic related. Keep it smart (the key is in the names!), keep it tailored and always wear your investment looks with pride.
To conclude, yes, there is nuance between biz casual and smart caj. So do follow the above, and always be on the top of your game.
---
Author: Gary Sweeney
---