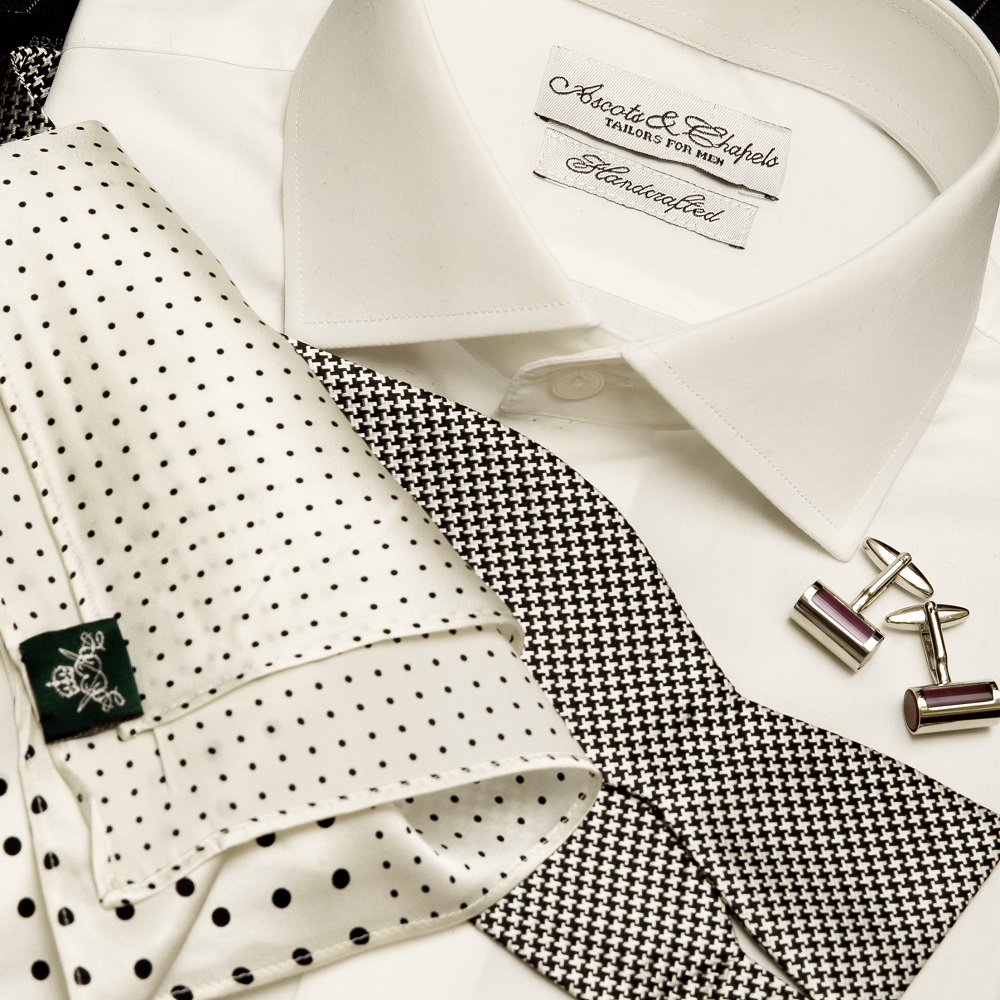 ---
There's many a gentleman who's asked himself, "What makes a good shirt though, really?" Sound familiar? Trust us, you're not alone if you're not totally clued up on what to look out for when it comes to dress shirts.
So we're here to change all that. Ascots & Chapels has you covered, as ever, with our easy-to-follow, insightful guide on all things dress shirt.
Pay attention to the collar
So first things first, the collar, because the top seems like a great place to start – are we right? Collars come in all shapes and sizes and even vary in stiffness.
Keep your face shape in mind when collar choosing. A larger collar will help balance out round faces, while a small collar will help bulk things up if you think your head is on the smaller side.
A point collar is the most common but there are also tab collars, button-down collars and spear collars (amongst others!) to consider for your shirt repertoire. A typical American point collar might be your best bet for regular office days but if you fancy yourself as a bit of an experimenter in the sartorial department, you might want to mix it up with the more decorative button-down style or London-approved spread collar, which can accommodate thicker ties if you like to make a statement.
The fit to suit you
Naturally, the fit can make or break how you look (and feel, of course) in a particular item. The shirt interacts with all of your upper body so when you're being fitted for a dress shirt, an expert tailor will be aware of each area of the item and how it's working for your body.
The collar should fit just right – comfortable enough so you can crack on with your day, not too tight that you're struggling for breath, or too loose which will make you look uncouth.
Shoulder seams should be in line with your shoulder (who knew!), not pulling tight towards your chest or too low down the deltoid part of the arm. You don't want any fabric pull around the torso but, equally, it should smoothly follow the shape of your body and not loosely gather. Width and length should be checked at the sleeve, and pay attention to the cuff fit – which should mirror the collar in terms of not being too tight or too loose.
Finally, the length of the dress shirt is also super-important. It should be long enough to neatly tuck into your suit trousers but not too long as to leave your silhouette unsmooth.
A flattering colour palette
Most likely, when thinking of dress shirts, you're picturing a crisp all-white number. And while it's imperative to have a white dress shirt (or five) in your tailored ensemble – it's a wardrobe hero after all – there's a whole rainbow out there to explore!
Selecting the best shade for your new dress shirt will come down to personal preference, your skin tone, and also the season. As spring blooms, why not try out a pale pink, lavender or sky blue? For summer, you can be bolder in warm, bright tones or perhaps a lightly coloured check print design. Earthy tones such as maroon, olive or tan are your best bet for autumn and can suit the slightly heavier fabrics you'll look to as the weather turns. Last but not least, winter was made for navy blue, dark green or grey shirts. These tones will lend themselves well to heavier twills and flannels for the colder months.
As with any style choice, don't forget to put yourself first. Even if bright red becomes a dress shirt trend, there's no point jumping on the bandwagon if you know red doesn't suit you or you don't feel your absolute best in it.
Luxurious fabric choices
We'll round off our dress shirt run-down with a little fabric know-how. Classic choices include cotton poplin, dobby, gingham and broadcloth.
We've got thousands of shirt fabrics for your perusal and your tailor can help with the pros and cons of each thread. For instance, Oxford cloth is used widely on dress shirts – it's soft and comfortable but can be seen as a little more casual. Royal Oxford is finer and can stand proud with a fine suit and gorgeous tie.
We're looking forward to helping you choose or create the dress shirt of your dreams.
---
Author: Gary Sweeney
---