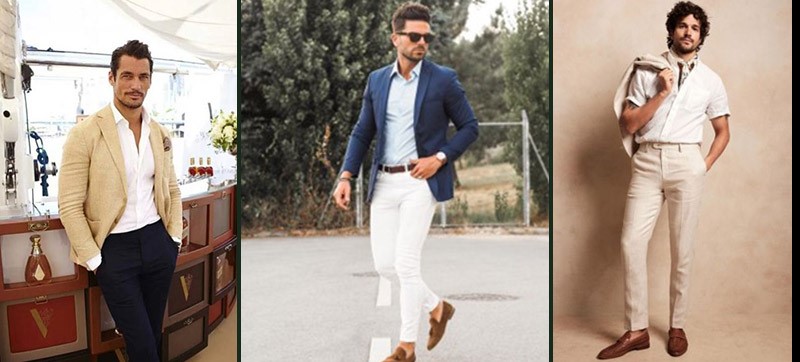 "Make it simple, but significant" – Don Draper
Who doesn't love a summer wedding? The frosty glasses of fizz, the al fresco canapes, the idyllic location…
But the conundrum of what to wear as a wedding guest intensifies in that oh-so-unforgiving glare of bright sunshine.
As well as worrying about getting the dress code right, you'll need to make sure your garb is suitable for the summer. That means keeping your cool (in every sense) when faced with at least 45 minutes of sweat-inducing wedding ceremony and several hours of late-night dance floor moves.
No need to break a sweat though, gents. We've got you covered with our definitive guide to dressing for a summer wedding.
1) The suit
Summer weddings tend to be less formal, so we'll focus on smart, smart-casual and casual suits. But make sure you check the dress code before you assume this, as some diehard traditionalists will insist on white or black tie.
First, the 'smart suit'. If the dress code is summer smart, you have a little more freedom to play around with fabrics. Steer clear of dark, heavy materials and opt for lighter ones, such as chambray, cotton-twill and lightweight wool-linen blends. You can still work a razor-sharp suit cut from a breezy fabric. Seersucker, an ultra-light puckered cotton favoured by Ivy League kids, is a popular option for good reasons.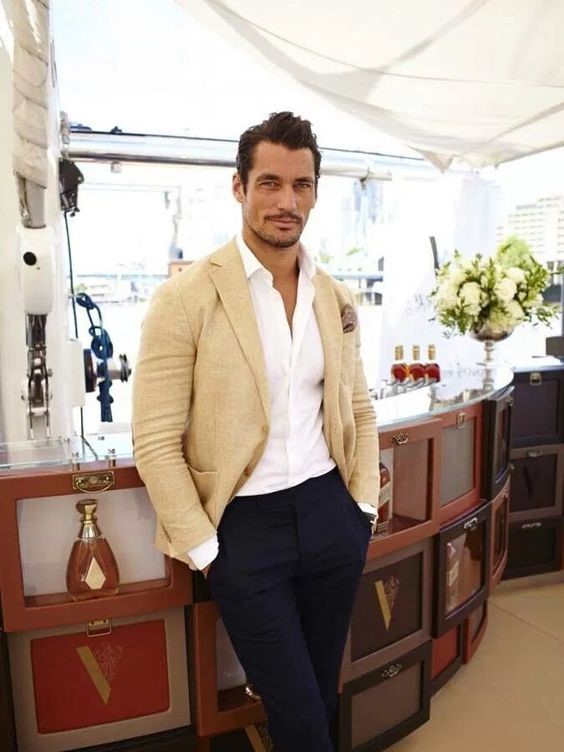 If the dress code skews a little more towards the lax, opt for ultra-lightweight, unconstructed suits. Or you could add a little creativity by choosing separates. Choose a lighter hue on the bottom and a darker jacket.
If the wedding takes place on a beach, it's still not the time to whip out a t-shirt and flip-flops. Instead, pair smart trousers or chinos with a crisp shirt or polo shirt for a breezy look and feel. You'll be forgiven for forgoing a jacket, though a sport coat or blazer could add a stylish touch in the evening as temperatures cool.
2) The accessories
Black tie calls for bow ties, cufflinks and cummerbunds and white tie demands – quite literally – a white bow tie. But what of more casual wedding attire?
The jury is out on whether you need to wear a tie to a summer wedding. In our experience, if the dress code veers towards the formal side, it's only polite to wear one. But if not, you're free to skip the necktie and focus on other accessories instead. Wear your shirt open and unbuttoned at the top or consider wearing a banded collar shirt if that makes you feel uncomfortable.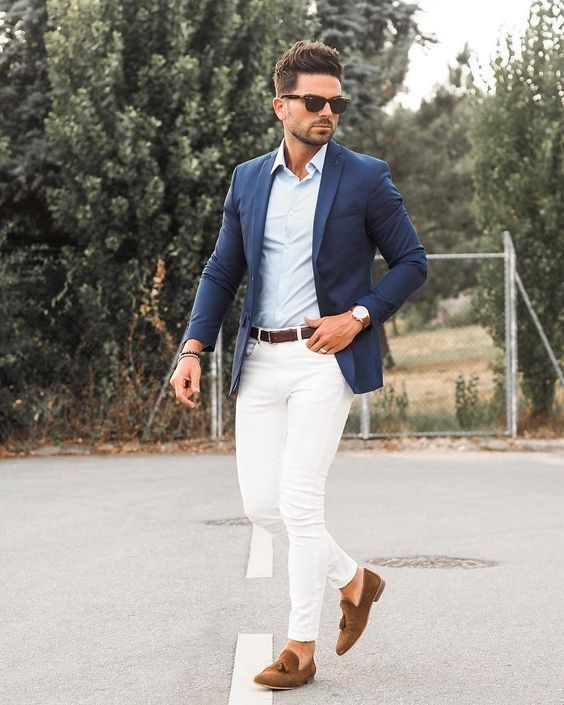 Think about the details – even down to your belt. If you're wearing smart-casual or casual attire, your belt doesn't necessarily need to be black or brown. A small fabric belt could add a subtle contrast to your outfit. Alternatively, use it to pull together different colours.
Pocket squares are usually associated with black tie, but they work just as well with more casual looks. They add a valuable pop of colour if you're leaning towards more subtle palettes, like khaki or beige. A small accessory with a big impact.
Finish off the look with a pair of snazzy shades. Opt for classic styles like Ray Ban Wayfarers and avoid anything too flashy.
3) The shoes
And now we get to the great shoe dilemma. As a rule of thumb, it's best to avoid formal patent leather shoes if you're wearing a more casual suit. No one needs your shiny shoes to light up the dance floor when the sun is out.
Don't be scared. This is your opportunity to branch out of your comfort zone.
Loafers and leather are a match made in heaven. If they're comfy enough, you can easily get away with forgoing socks too. Boat shoes work just as well with unstructured suits and chinos.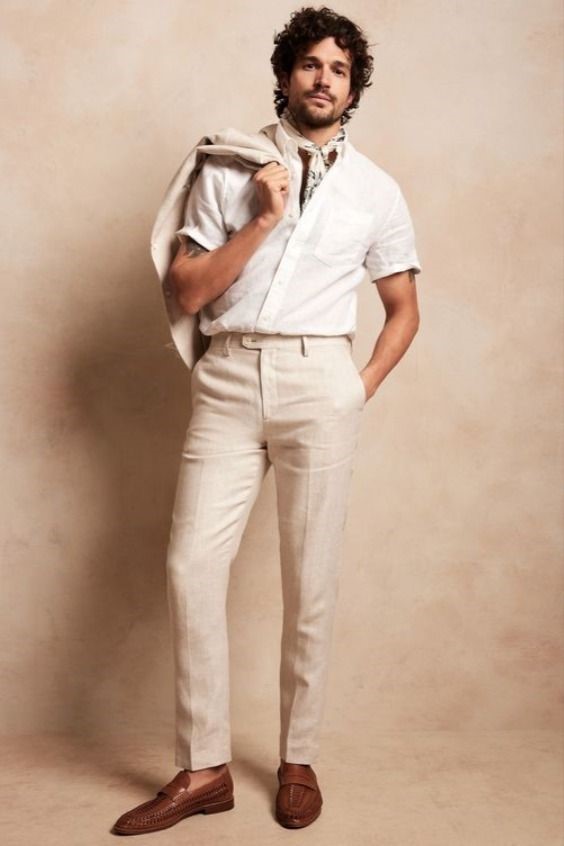 Seasonal suede and canvas are good alternatives if you prefer to stick with more traditional shoes, particularly those with monk straps. Where possible, opt for more versatile colours that complement the rest of your outfit here too.
Sneakers at a wedding should be avoided at all costs.
5 takeaway tips
1) Work within the confines of the dress code. Don't assume a summer wedding means 'beach'. If you're not sure, ask. No one will thank you or your Aloha shirt for digressing.
2) In the wrong hands, breezier fabrics like linen and seersucker can look all types of wrong. Stick to traditional tailoring for a handsome, summer-ready suit.
3) Avoid wearing anything that could cause confusion about your role. That means, don't dress like you're part of the wedding party. But equally, don't dress like a waiter either.
4) Never upstage the groom. Steer away from a full morning suit for informal weddings or anything excessively flashy that will take the attention away from the happy couple.
5) Don't wear denim. Even if the dress code says casual – it doesn't mean that casual.
We know that dressing for summer weddings can be daunting, but we're here to help you navigate this minefield with panache. Just pop into your favourite store for a consultation, suit planning and fitting and we'll have you wedding-ready in no time.
---
Author: Gary Sweeney
---