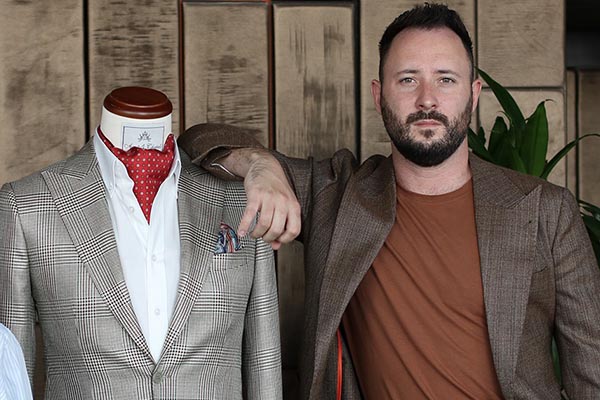 "Dressing well is a form of good manners." Tom Ford, American fashion designer and filmmaker
As the year-end approaches, here at Ascots & Chapels tailors for men, we figured it's best to look forward not back. No one wants to focus on the challenges 2020 has brought just now, so let's look toward the bright future of 2021 instead.
We're all hoping for a return to normalcy, which is expected in 2021, and with that comes the revival of a smarter wardrobe. Concerned? You shouldn't be as we're here with the perfectly on-point 2021 dress codes.
Blazer with jeans?
"Trendy is the last stage before tacky." Karl Lagerfeld, German fashion designer, director and artist
With businesses intent on bouncing back (and pronto), you need to draw the line somewhere when it comes to overly casual wear. While the rise of WFH has certainly relaxed dress codes for day-to-day duties, if you're returning to the office and want to make a good impression, wearing jeans with your blazer is most definitely not the way to do it. It's pushing the boundaries rather too far in the wrong direction.
Equally, that comfy hoodie you lived in when working in the kitchen was a thing… well, it's not a thing any more. Smarten up to look the part, get taken seriously, and make a great impression around colleagues and clients.
To tie or not to tie?
"A man should look as if he had bought his clothes with intelligence, put them on with care, and then forgotten all about them." Hardy Amies, English fashion designer
Of course, there's some flexibility (depending where you work and the industry) and a tie might not be required if it's a quiet day in the office, perhaps with no internal meetings or external appointments.
However, it's always worth making the effort and selecting a stylish tie with your look for extraordinary results. We'll always advise you to wear one if you have a review meeting with your boss, anything new-business-related or a presentation where you'll be under extra scrutiny, for example.
Is bespoke suiting worth it?
"Dress like you've made something of yourself, even if you haven't." Men's Health magazine
100% yes! Whilst weekend wear is a definite no-no, there are blurred lines when it comes to casual and semi-casual ensembles in the workplace. What's always a given though, is that proper tailoring never goes out of style. So you can opt for the Ascots & Chapels treatment knowing that your great suit could just be the ticket to a promotion or a big new win. Perfectly crafted to fit your unique shape and in colours and fabrications to suit your particular skin tone and the season, turning up in a bespoke suit will always work to your advantage. Who doesn't love a good suit?
The recap
"Clothes don't make the man, but clothes have got many a man a good job." Herbert Harold Vreeland, American author
Just like Herbert once said, clothes are highly important in the workplace. And that's even more valid as we return to work after a long stint of things being rather different and living through more casual working-from-home lifestyle.
Let's strive to enter the New Year – a new opportunity – in the garments best for setting intentions in and working towards our 2021 goals in. In case you've not quite got it yet, that means saying an overdue goodbye to tatty joggers and sweatshirts. Leaving the trainers for the gym only. Forgetting those faded tees.
Remember the fun that can be had with style and how fantastic a new suit, created just for you, can make you feel. Don't forget the finishing touches either. If there's an important meeting in your calendar, a silk tie or your favourite brown leather briefcase will add to your confidence, setting a professional tone. Style and success in 2021, you've got this!
So from all of us here, we wish you a safe and smart return to normal working life. Don't hesitate to email, call or comment below if you have any suit enquiries. Or arrange a visit to your nearest boutique to suit you. We look forward to seeing you and measuring up your dream 2021 attire very soon… 
---
Author: Gary Sweeney
---