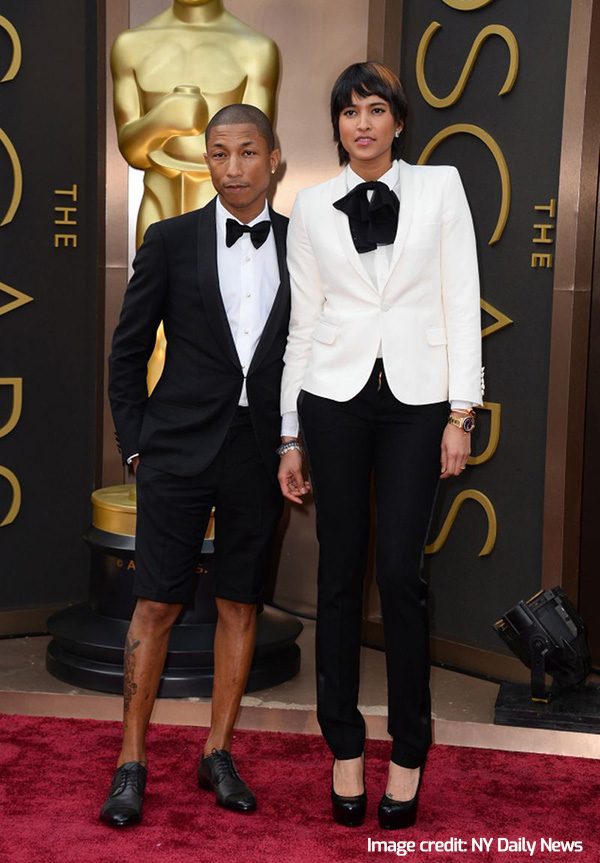 It's a new dawn, it's a new day. It's 2022 – and we're leaving tired style behind in the past where it belongs. This year, it's all about the daring dresser. Something to do with the challenging past two years, lockdown loungewear and months and months of cancelled fancy events. But now, it's time to look forward and shine once more. So are you ready to be bold in 2022? We certainly are at Ascots & Chapels – and, naturally, we've curated some key points and celebrity inspiration right here so you can nail your bespoke tailored look this year and beyond.
"Decide what you are, what you want to express by the way you dress and the way you live." Gianni Versace, Italian fashion designer
One notable trend for SS22 menswear is the reworked suit. With a renewed creative energy and as a response to the sometimes-enforced working from home lifestyle, designers from Hermès to Tod's, Dries van Noten to Giorgio Armani, have returned to suit design with a more chilled-out approach. Take for instance easy-to-wear two piece looks, which still look smart for internal meetings at the office but are also relaxed enough if you're popping to Starbucks or having a five-minute time out on the sofa. It's all about that low-key appeal (though important new business meetings still deserve a more traditional suited ensemble). For spring, light cotton and linen remain popular and we're seeing lots more suit jackets down the runaway (hello, Fendi and Issey Miyake) rather than fitted blazers, which again echoes the extra relaxed approach.
Another catwalk trend to eye up? Colour! The more adventurous of us may leave behind go-to navy, black and fifty shades of grey and turn to extraordinary shades of purple, green, yellow and even pink – hot pink! See Louis Vuitton, Dolce & Gabbana, Moschino or Fendi for inspiration. Or, you know, fruit salad sweets. You'll be pleased to know that we stock literally thousands of fabric options in-store, so wherever your mood is falling on the colour wheel, we'll be more than happy to get designing in it.
As for silhouette, who's ready to try the short suit trend for 2022? Look no further than Pharrell Williams if you need some persuading. From the Academy Awards back in 2014 to the Oscars ceremony in 2019, the singer has been a frontrunner in twisting old-school expectations of the suit. And now the trend has finally got legs – or a lack of (sorry, couldn't resist). If you're daring enough to flash your pins in a tailored get-up, it's imperative that the tailoring is, well, impeccable. With a look that will stand out so much, everything needs to be perfect, to prevent the haters from having anything to latch on to. Pharrell has led the way since back in the day but even the high-street is beginning to champion this summer trend. If it's one you choose to go for, please keep it luxe. Avoid off-the-rack options, and visit your trusted tailor instead.
Let's wrap up with the most current accessory to style with your look this year. Define your own brand with (the humble yet statement) tie! Yes, you may already rock a tie every single day for work but early adopters of the street style trend are now styling the tie with just about everything. So your luxury silk number has more mileage and can now be layered over a T-shirt and jeans combo for weekend kicks. And with your tie getting even more airtime, let us help you with beautiful colours, bold patterns and thick, luxurious fabrics. It'll look stellar with your suits and – if you're brave enough – with some of your off-duty outfits too. Dare you.
"A well-tied tie is the first serious step in life." Oscar Wilde, Irish writer
For us, the beauty of bespoke tailoring for gentlemen – and personal style at large – is that you are in control. If you fancy dressing in a more adventurous manner for the very first time or you're favouring a more fashion-forward look like always, it's all up to you. Whether it's the fabric choice, new colour options, contemporary design or an on-trend cut for the year ahead, you always have the freedom to create your own style. You can explore, experiment and set your own trends.
Or, if you want to recreate a key look for the season that you love and have seen elsewhere or make a celebrity outfit hit your own, you can do that too (with the help of your tailor, of course). But whichever style you go for next, the choice is always left to you. So enjoy the creative process and go rock that new look!
---
Author: Gary Sweeney
---