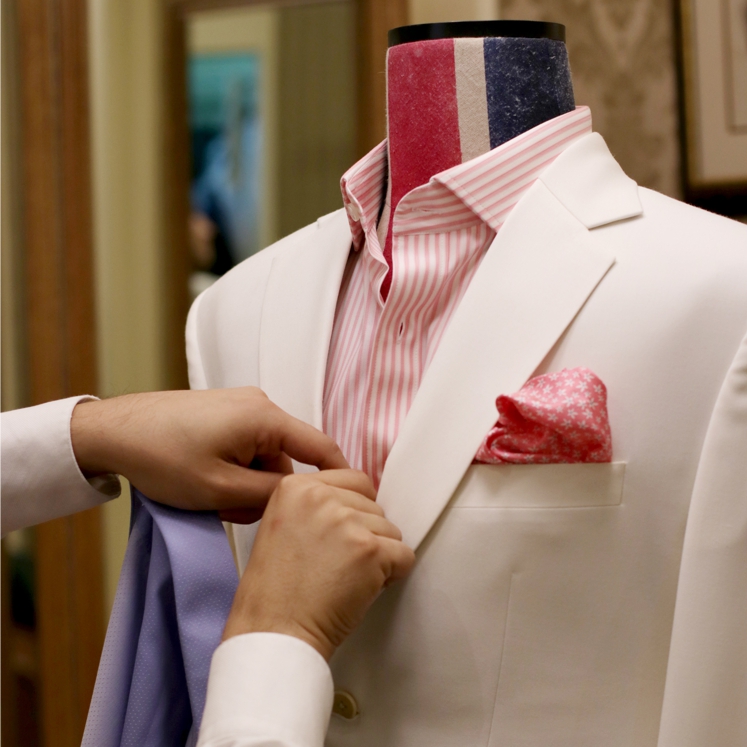 Let's start at the very beginning, shall we? What exactly is preppy dressing? 
Preppy is the informal noun for a pupil or graduate of an expensive prep school (or a person resembling such a person in appearance). Naturally, you don't want to look like a messy teenager. You do want to look expensive. So when you hear the term preppy dressing being thrown around it most likely refers to plaid prints and structured silhouettes. Often, pastel hues make up the core palette of a preppy dresser's wardrobe, but you'll also find classic tones like navy and neutral shades thrown into the preppy mix. 
A classic – and suitably famous – preppy look is chinos paired with a smart shirt and sports jacket. And at Ascots & Chapels, we're not only here for bespoke suiting; we can kit you out with your tailored separates, fitted to perfection, with class and ease. 
Layering is a key element of preppy ensembles, which makes it so perfect for hot or cooler months. Think a textured knit thrown over your shoulders with the arms nonchalantly tied, or a blazer flung over your shoulders with a certain je ne sais quoi air. Mixing textures is a great way to take your look from summer to winter so you can stay true to your style whatever the season. 
For a collegiate-inspired aesthetic, try traditional shirts layered under sweaters with a contrast tie – you can really have fun here. Or perhaps it's a fitted waistcoat under your jacket for that extra layer of gentleman's finery. Too hot? Come spring, you can pair this separately with a casual T-shirt throughout the warmer months. 
You don't need to get too carried away with pattern. Simple colour palettes such as navy, light blue, white and beige can be woven into a preppy look that also stands the test of time. But to truly nail 'preppyness', a hint of pink is no less than essential. We all know a man who can pull off pink is one to be admired. 
Another look to have on your rotation is the hero button-down Oxford shirt with tailored shorts for summertime (or tailored trousers when it's colder, of course). This pairing is great with boater style shoes and that luxe sweater thrown over your shoulders. 
The goal? You want to appear put-together but not pompous. And that can be a challenge considering the sort of person you're channelling. But, with less of a try-hard attitude, you'll definitely pull these looks off. And there's always polo-shirts to nudge your look in a casual direction. 
Don't forget to have some fun when it comes to your accessories as well. Can sunglasses top off the tailored look? Absolutely. How about the components of silk bowties, printed pocket squares and even lapel pins? Invest in them all. These add-ons are sometimes playful and can bring a cool, youthful contrast to more conservative looks. 
Unless you're really out there on fashion's front row though, we'd avoid overdoing the print clash. To be honest, this can be an eye-sore and doesn't stand the test of time. So if your bowtie is blue and white paisley, go for a block pale pink shirting choice. Or if you've got a boldly striped grey and white shirt, then try a more minimal navy tie to bring the look together. 
Remember, style is unique and our mission at Ascots is to help you master yours and wear it with confidence. You're not at college any more so you don't have to commit to one look, preppy style, all the time. Sometimes you'll want to flex a preppy-inspired ensemble, maybe another day you'll be feeling something more casual. The best part? You can always turn to preppy looks and be safe in the knowledge they're timeless. No-one ever looks out of place in well-tailored separates – especially if they've been fitted by a master tailor. We're ready when you are. 
So, what are your thoughts? Do you think you've nailed the art of preppy dressing? And who's your preppy dressing style icon, if you have one? 
Right, we better get back to class! 
---
Author: Gary Sweeney
---