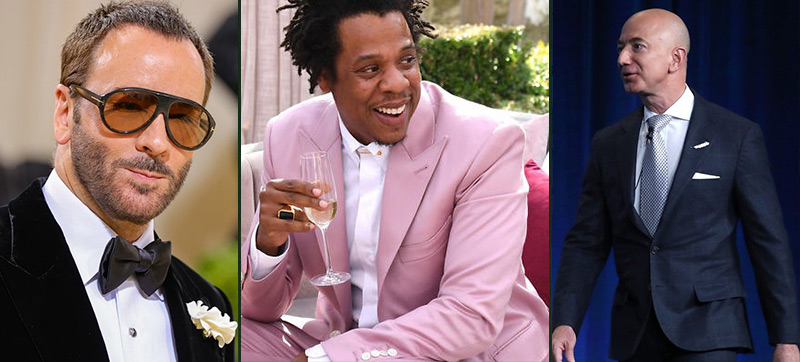 Unfortunately (never did we think we'd start an article on such negative terms!), succeeding in business doesn't always mean succeeding in style. Because if there's one thing money can't buy – OK, maybe two – then we all know that money doesn't buy style.
However, the businessmen we admire really do have great style along with their acumen, drive and forward-thinking. And while it was pretty hard to narrow down a crowd of stylish, successful gents to just three winners, we've managed, and we'll spotlight them here.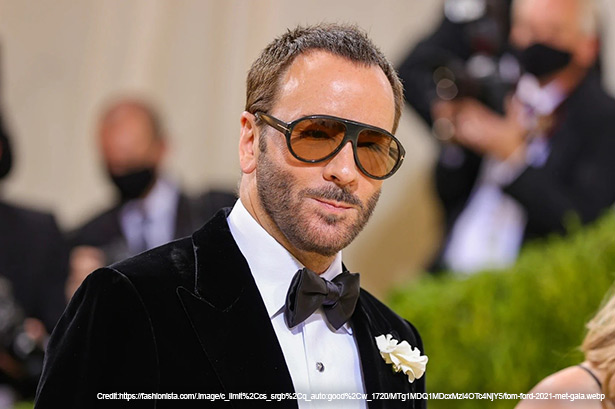 "Style is very different from fashion. Once you find something that works, keep it."
Naturally, we're starting with the iconic businessman Tom Ford (who hails from Austin, Texas). Why's he up first? Because he's in luxury fashion and he sure looks like it, too. While designing his own line of collections (and creatively directing some seriously fashion-approved films), he makes sure to turn the lens on his own looks too.
If you look up 'dapper' in the dictionary, you might just see Tom's face next to the definition. Take it from us, he's an undisputed King of tailoring. We're talking black tie ensembles, red carpet wins and marvellous monochrome get-ups. For Ford, it's all in that final touch though. He nails the suit, of course, but just look at the impact when he (apparently casually though we're sure it was extremely curated) throws on some shades. It's Tom Ford's confidence that makes things next-level. So take a leaf out of his style book and perfect your half smirk as you saunter around in a new suit tailored to perfection by the best.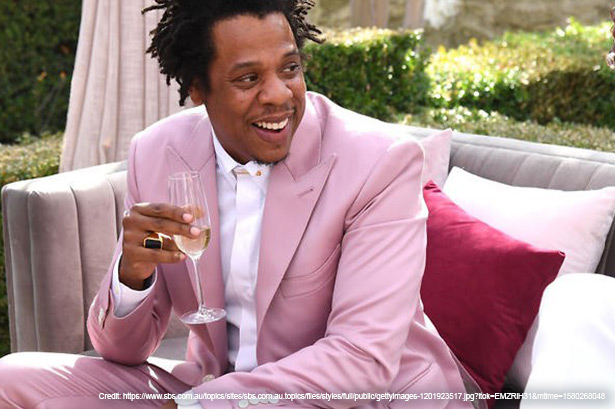 "Remind yourself. Nobody built like you, you design yourself."
Shawn Corey Carter, better known as Jay-Z of course, was born in 1969 and is ageing like a fine wine. While in his music videos it's often throwback sunglasses, 90's tinged jeans and baggy tees, in real life (or in the public eye we should say) he's a tailoring genius.
You could be too because, after all, it was Jay-Z who once said: "I believe everybody in the world is born with genius-level talent. Apply yourself to whatever you're genius at and you can do anything in the world." We can help you get genius-level at style, inspired by the rapper himself.
Unlike Tom Ford who opts for a very classic aesthetic, Jay-Z isn't afraid to take risks. From pink (or was it mauve as he argued?) suits to a white T-shirt and sneakers paired with a fitted sky-blue suit, he was born to stand out and own it. The trick? He doesn't try to cut corners or wear an ill-fitting look. Everything is heavenly tailored, and designed to show off his best assets. Jay-Z is over six foot, so tall men can echo his preferred silhouette (a long-line jacket and pleated trousers) whereas shorter men might want to opt for a blazer that slightly exposes the buttocks, along with avoiding any excess fabric that may give the impression a suit is drowning you. Remember, whatever height or build you are, always talk to your tailor about the desired effect and how to make a suit look stylish with your exact stature in mind.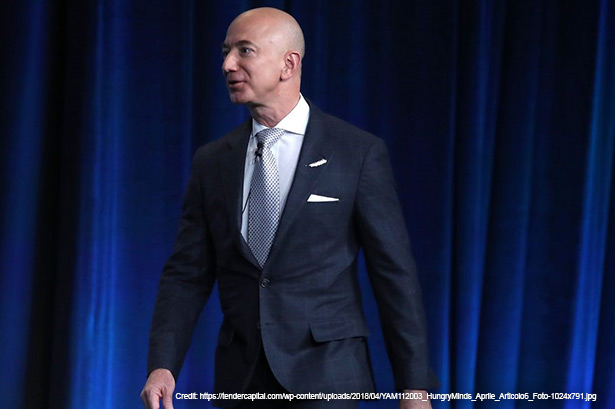 "You have to be willing to be misunderstood if you're going to innovate."
Now, to wrap up our coverage of the best-dressed businessmen out there, we finish with New Mexico-born Jeff Bezos. As one of the richest (if not the richest) men in the world, you'd think his style would be infallible. Not so. So avoiding the dodgy jackets and the off-duty outfits that caused more question than admiration, we're here to pore over his suit collection.
While we can't confirm he's popped into Ascots & Chapels recently, we can say without hesitation that he knows a good tailor. Always professional in a dark tone like navy with the slightest sheen, Jeff shows off the fit to its best advantage with a silk tie and pocket handkerchief. As a bald man who can't experiment with hairstyles for different events, we like how Jeff accessories to suit the mood: black bowtie on the red carpet; printed tie for a tech conference. Have you thought about using accessories to mix up your look when a suit is good enough to repeat?
Thanks to Jeff, Tom and Shawn for the A-list businessman inspiration. We've banked the style notes and can't wait to see you soon to tailor you up in a look they'd all be proud of.
---
Author: Gary Sweeney
---