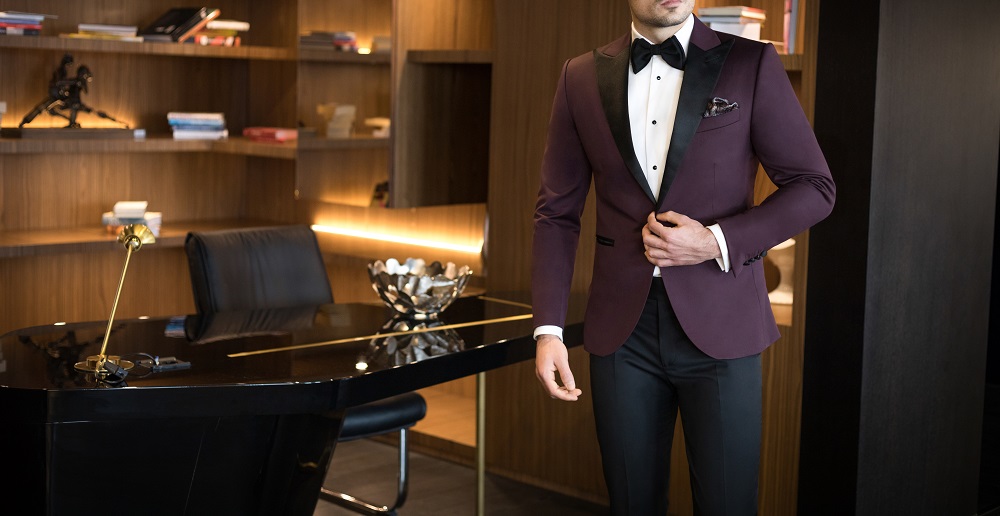 The return of the tuxedo (yes, really)
Allow us to be the first to announce… the tux is back!
We won't go on about how challenging 2020 has been for many (everyone's well aware) and naturally our wardrobes took a hit. Now though, as Dubai and many other locations begin to open up their doors, we're confident it's the tuxedo's time to shine once again.
The tux and big events such as weddings have always gone hand-in-hand. And after the government's recent announcement, it's all systems go once more.
In other words: tuxedo time.
So how do you get yours just right? It's all about a sort of elegant nonchalance for the modern gentleman. Read on to ensure you know what's what when it comes to choosing new formal attire and working it into your current wardrobe.
Jazzy jewel tones
"These gems have life in them: their colours speak, say what words fail of."
George Eliot (Mary Ann Evans), English novelist
Take it from the literary genius, jewel-like shades always make for a memorable look. Especially during the colder seasons, deep tones from emerald green to ruby red will take your dinner jacket to another level of stardom.
Simply put, jewel tones are richly saturated hues so essentially you can pick your favourite colour and 'jewel' it up. Think sapphire blue, amethyst purple and citrine yellow (though some of these will certainly look best as a style accent, for example on your bowtie, rather than as a block colour tux).
Dapper double-breasted cuts
"In a tuxedo, I'm a star. In regular clothes, I'm a nobody."
Dean Martin, American singer
It's hard to not feel rather fabulous when donning a tux. Supremely tailored and always stylish, the black double-breasted tux is a most elegant choice. That includes six-, four- or even two-button styles, depending on your form and preference. Six-button jackets are the classic whereas two-button designs are known as the Hollywood tuxedo.
Go for the four-buttoned option if you want a look that's somewhere in between.
Rich velvet key pieces
"The eye is delighted by the smiling verdure of a velvet surface."
Washington Irving, American short story writer
In line with jewel hues, velvet is the plush texture to turn to when you want a tux that's just that little bit extra special. A handsome velvet tuxedo strays away from the norm but shows you're really not afraid to make a style statement – even if you're the best man not the groom! Whether it's in Italian olive or traditional black, suave velvet catches the light – and the eye – wherever you're headed this comeback party season.
Impactful wide lapels
"Suits change a lot – the wide lapel thing, the fashion trends, the trousers change…"
Jason Statham, English actor
Now, if you've been following closely and decided on a double-breasted jewel-toned velveteen dinner jacket (well done you!), then we advise on focusing on the lapels next.
Regular lapels are obviously timeless and classic with enduring appeal. Skinny lapels had their moment on the red carpet thanks to various high-profile celebs but, as you may have experienced, they can be hard to pull off unless you're under thirty-five (ahem) or have the 'perfect' bod.
However, wide lapels are entering the style scene and becoming ever more prevalent.
So they're our top choice and we've been keeping an eye on their rise and rise – first admired on the catwalk, gaining popularity in Europe, and then slowly becoming more popular in the United States and beyond. A wide lapel can really add dominance and stature across the chest and shoulder areas.
Artfully hand-tied bow ties
"Wearing a bowtie is a statement. Almost an act of defiance."
Rick Kaplan, American TV producer
Make like Rick and don't forget your dicky bow (that's London slang for the bowtie if you weren't sure). Tied with a symmetrical shoelace knot, the bowtie is a great chance to put your own spin on a classic look and let some personality shine through.
Whether you go all-out sophisticated in black satin, experiment with a pop of red velvet, or even playful paisley prints, the possibilities really are endless when it comes to this stellar men's accessory.
Right, shall we book you in for that tuxedo fitting then?
---
Author: Gary Sweeney
---