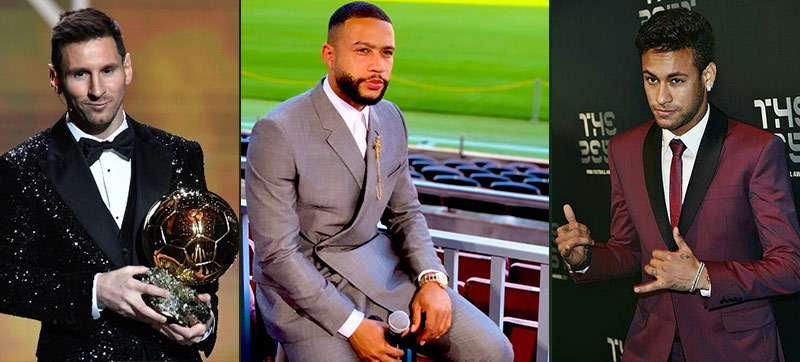 Gents, you probably don't need us to tell you, but the FIFA World Cup Qatar 2022 is just around the corner. The countdown is on as the tournament kicks off in Qatar (the first World Cup ever hosted in the Arab nation) from the 20th of November, through to the 18th of December. Phew!
Now, we're less interested in the actual football at this very moment and more focused on men's style away from the pitch. It was a tricky choice but we've chosen three football stars as our best-dressed athletes. Let's see what we can learn from their celebrity approach as we take a look at some stunning suited looks they've shown off over the years.
First up, Neymar. Having scored at least 100 goals for 3 different clubs (he's one of only 3 players to achieve this), he's known as a prolific goalscorer and leader on the pitch. Is he leading in the style stakes too?
Yes certainly, in our humble opinion. Let's take a look.
"The secret is to believe in your dreams; in your potential that you can be like your star, keep searching, keep believing and don't lose faith in yourself." Neymar da Silva Santos Júnior (Neymar), Brazilian football player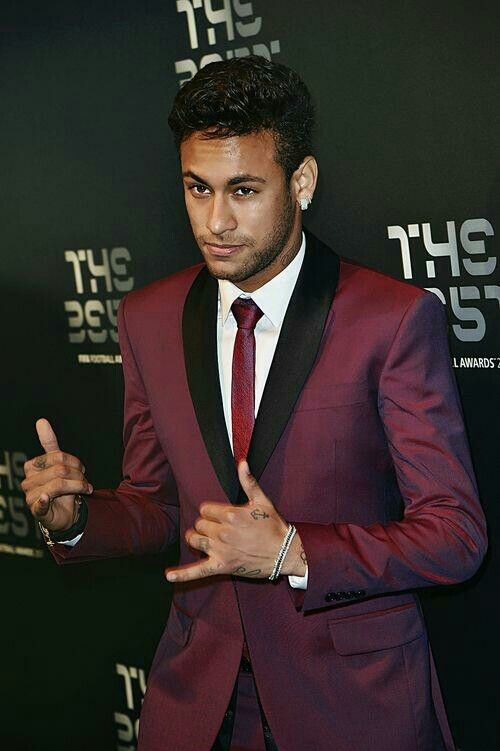 We'll never forget his get-up at the Gala of the Best FIFA Football Awards at the Palladium Theater in London back in 2017. Sharp, sleek and styled to stand out. With a matching tie against a contrast lapel, the rich burgundy suit flattered his skin tone and oozed expensive appeal. The fabric's sheen was perfectly designed to catch the spotlight as Neymar posed with his award. He chose a perfectly tailored ensemble – double vents in his jacket and a strong pleat in his trousers – with a fitted, crisp white shirt to keep things classic.
He also wasn't afraid to accessorise to bring some personality through. Check out the luxurious timepiece, chunky earrings and lavish 'special occasion only' diamonds that adorn his wrist. His look scored all round.
From Brazil to the Netherlands, next up on our best-dressed footballer list is Memphis. At only 28 years old, he makes headlines for his football skills and is also known for his burgeoning hip-hop career. Here's why he made our best-dressed list…
"What's my secret? I don't have a secret. You just have to work every day on your dreams." Memphis Depay, Dutch football player
Whether it's a dazzling Michael Jackson-inspired jacket at an awards ceremony (trust us – Google it!) or a head-to-toe vibrant red ensemble overladen with diamonds, Memphis does that whole slightly 'extra' look with aplomb. Basically, he's not scared to experiment, have some fun with fashion, and set his own new trends. And we rate that.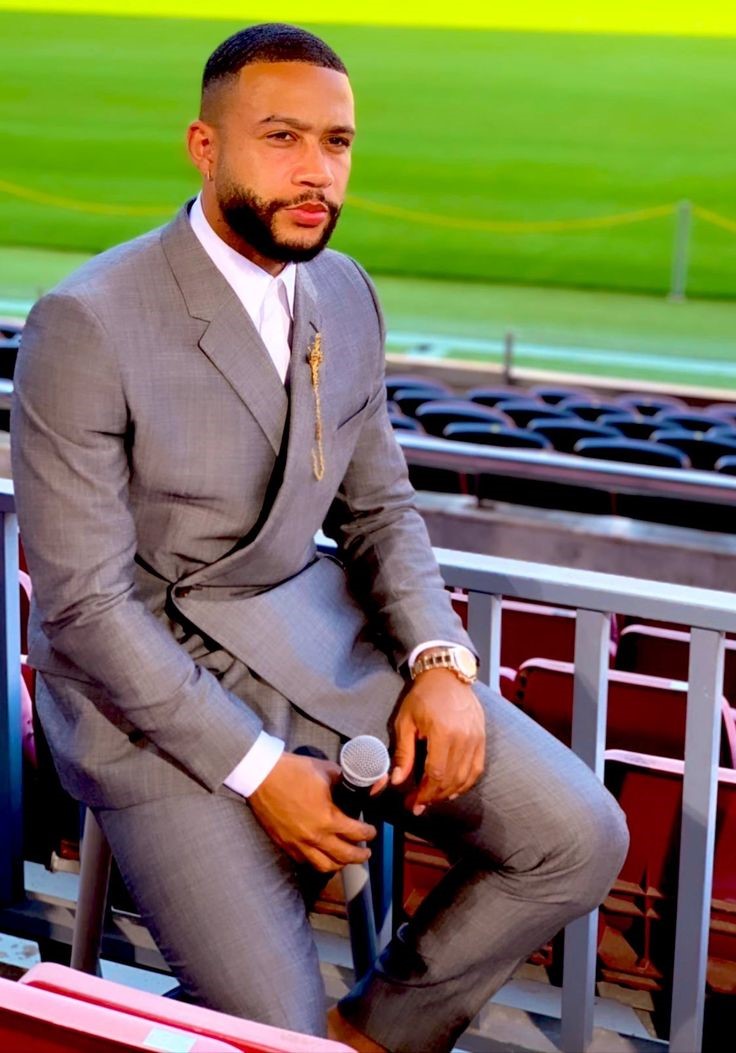 The look to catch our eye the most, though, is the suit he wore last year as he signed his new contract as a Barcelona player. During the official presentation, he looked suitably dapper in a long-line suit jacket and matching tailored trousers in classic grey. Without a tie to break up the look, his white cotton shirt looked pristine, buttoned to the top and carefully revealed at the cuffs. He also went without socks for a modern take.
To push the style boundaries further, Memphis accessorised with a Dolce & Gabbana pendant brooch – because he doesn't do things by halves. The lavish, playful and religious pin with precious stone embellishment felt perfectly over-the-top for the star in his formal tailoring.
Last but not least, hailing from Argentina, is Messi – the country's all-time leading goalscorer and among Time's 100 most influential people in the world in 2011 and 2012.
"You have to fight to reach your dream. You have to sacrifice and work hard for it." Lionel Andrés Messi, Argentine football player
And when it comes to fashion? Messi is another footballer who doesn't always shy away from more experimental suits. In the past, he's gone for a floral look, a bright red ensemble and even suede. Top of our list (and famous with all his fans too) is his outfit for 2021's Ballon d'Or ceremony, where he picked up his seventh award.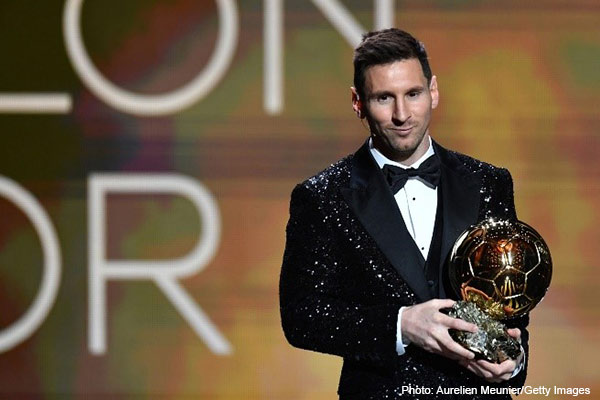 With his whole family coordinating in sparkly creations, Messi opted for a glittery blazer. The notch lapel, fancy bowtie and tailored trousers all had a matching sheen, with his luxe dress shirt accented with tiny black buttons. Indeed, you couldn't wear it to the office, but how grand would you feel sporting something like this for your next fancy event. It continues to make style round-ups – including ours.
Which footballer's style do you admire, and are there any you'd put on a worst-dressed list? We're curious.
---
Author: Gary Sweeney
---