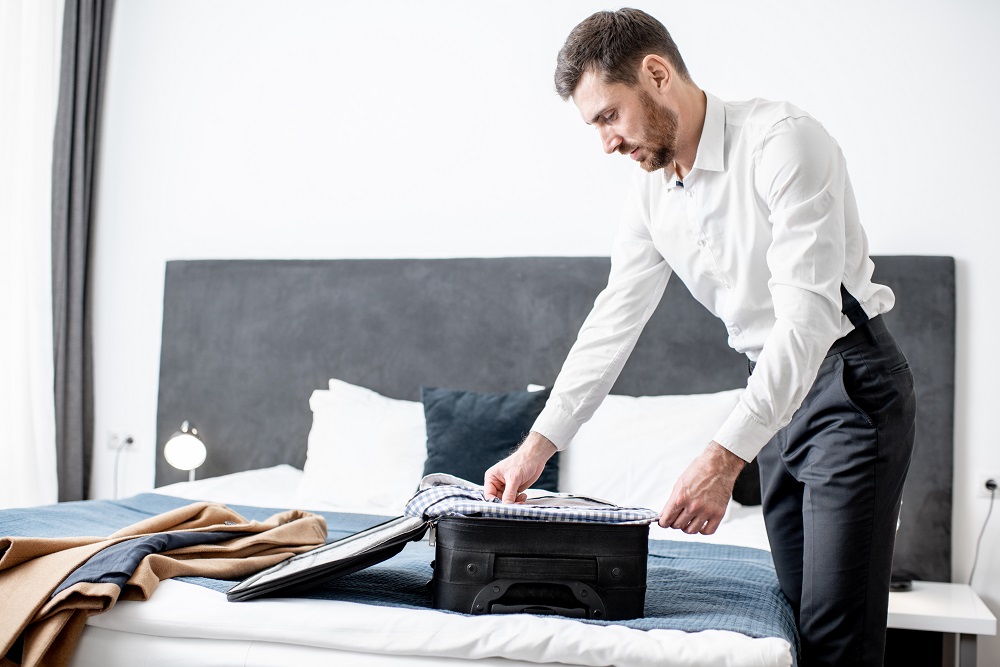 The ultimate packing list for professionals
Do you travel a lot for work? The global pandemic paused all but essential travel for a while, but as some countries ease back into a new normal and air corridors open, you may be required to carry out business requirements overseas sometime soon.
We all know the feeling of panic that can arise when a last minute trip is required and if that happens to you, you'll be planning – and packing – before you know it.
As ever, Ascots & Chapels have you covered with our professional packing guide that covers all bases for work and play. Keep on reading for what to pack to keep up your stylish appearances and win new business all over the world as lockdown comes to an end.
Long plane rides and stuffy taxis will be no match for your carefully curated tailored wardrobe.
A lesson in lightweight suiting
Rule number one: Ensure only lightweight fabrics for summer destinations and hot countries. With hundreds (if not thousands) of materials to choose from, our special range of fabrics ensures you look the part no matter how intense the heat gets.
By choosing a sweat-wicking fabric, you'll look and feel dry – and be able to perform at your best whether it's a presentation in an overseas client's boardroom or a new business meeting at the bar.
Go for moisture-wicking merino wool or nylon, or choose breathable fabrics such as cotton, rayon and linen; instead of wicking away sweat, these allow air to pass through freely, therefore allowing faster evaporation of any moisture your body produces.
Lightweight fabrics will serve you well whether you're working or relaxing.
Wrinkle-free winners
Rule number two: Choosing a wrinkle-free travel suit or crease-free shirting is a must. Your clothing is going to go on quite the journey – packed up in your suitcase that is bundled through airport security then probably shoved in the back of a taxi or pulled along the street.
Luckily, we've got the expert technical fabrics that will stay as sharp as you are. Our permanent press textiles have been professionally treated to hold their shape so that when an iron is far from reach on your travels, your clothes will still look crisp and wrinkle-free. No one will even know you picked the 'easy care' option.
The blazer to rule all blazers
Rule number three: So you're going on a trip that's both business and leisure and we bet you want to look suave for the duration. Want to know our easy-to-follow advice? Choose an unstructured blazer.
Great tailoring will always be in style and an unstructured sport coat is here to stay. Just look at the Italians.
Naturally, an unstructured blazer is a little more casual but, most importantly, more comfortable than more restrictive structured styles. You can easily layer it over smart chinos (see below) or even designer jeans for your evening plans when you're off the clock.
In contrast to a textured blazer, for instance, an unstructured design is more lightweight – perfect if you're battling extreme heat abroad while trying to get lots of work done.
And for the bottom half of your travelling looks? Just read on…
This way for excellent chinos
Rule number four: High-quality chinos will keep you looking stylish and professional whatever your destination.
Originally made from cotton twill, chino trousers are cut with a closer fit than, say, khakis which adds to their formal appeal. From a bold slim silhouette to a flattering straight-leg cut, ask your tailor for advice about selecting the chinos that work best for you.
Trust us, chinos are highly versatile, and work well with smart casual or business casual ensembles so they're imperative to pack (and wear for that matter) on your next adventure – whether it's business or pleasure or a mixture of both.
Get ready!
If you're in a big rush to pack for a spur-of-the-moment trip and you've scrolled down to the very bottom of this article for a quick post-pandemic packing list summary (hello there!), then we'll get right to it. Lightweight fabrics are your saviour. Wrinkle-free textiles are also a must. Invest in a lightweight unstructured blazer. And, finally, select good quality chinos for your trip.
Let us know where you're going next and we hope your travels are a huge success!
---
Author: Gary Sweeney
---