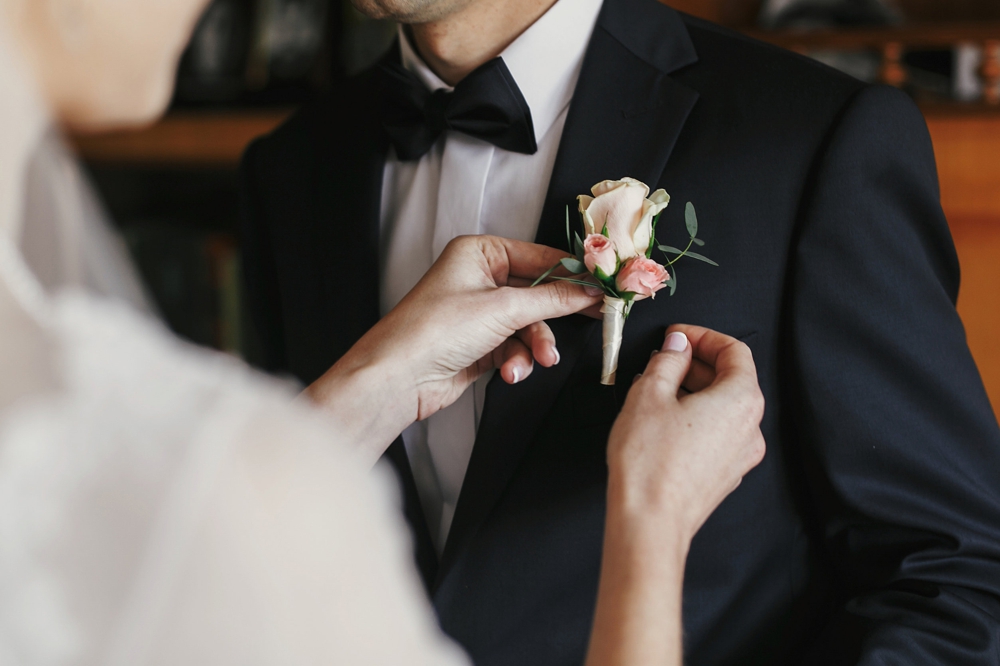 Getting married? Congratulations! Off to a wedding? Have fun! Weddings are obviously wonderful but can also be daunting when it comes to those all-important wardrobe choices. Here at Ascots & Chapels, we pride ourselves on the quality and attention to detail of our bespoke creations – for weddings and, well, all occasions.
Find what you need quickly with the following know-how, broken down into what to wear if you're one of the two most important people at the wedding (AKA the groom!), if you're the very-very important best man, or if you're a very special wedding guest – you're all sure to impress, if you follow our handy tips.
The Groom
Let's start at the beginning, shall we? Before planning any suit, there's a series of questions to be asked before creating your dream look. Are there any key considerations or event themes you're planning and need to be mindful of for the apparel too? Where's the venue and how will this impact your suit? What time of year are you getting married? This last one has an effect on all sorts of things from the colours you may like to pick out to the fabrics used – no one wants to be too sweaty in their wedding suit, or absolutely freezing walking down the aisle.
First and foremost from us is that you need to feel a million dollars. It's arguably the most important day of your life after all! Therefore, wear something that feels like 'you'. If you're not usually an adventurous dresser, for example, why go crazy on your wedding day? If you hate grey suits, there's no reason to have to sport one on the Big Day.
Before creating the perfect wedding suit, we always ask what the bridal party will be wearing too. The event needs to be in sync so if you know all the women are dressing in lilac, for example, we're going to create something with a complementary colour – even if that's simply matching your suit jacket lining to the bridesmaid's dresses.
All eyes are on you so our advice is to always err on the side of overdressing rather than underdressing. And the advice we hand out overall, not just for weddings, is that lighter colours will look best for spring/summer occasions, whereas you can go for darker tones during the colder seasons – and for the evening fun.
The Best Man
Depending on what kind of wedding you're going to, you may be directed towards the sort of suit you should go for by the wedding party, or you may have the exciting job of it being left up to you!
Either way, work closely with the groom on your attire. What's his suit going to be like? Should you mirror it or aspects of it? There might be a colour scheme, there might not. And if there is, we'll want to work with shades that match or complement what the bridal party will be wearing to bring a real sense of synergy to the wedding style.
Every wedding is different so you need to come armed with the correct info before you get your tailor to work. However, if it's kinda up to you, our master tailors are more than happy to roll with it and suggest what we think is best – to truly suit you.
Make sure you allow enough time to have that first initial meeting with the tailor of your choice, to be measured, and to enjoy that final fitting and trying on your best man suit for the very first time.
By the way, if it's a black tie wedding, you must wear a tuxedo. This will come with 'wow' factor satin detailing and feel extra-smart for the occasion. You're simply not going to look great in off-the-peg rented clothing. Invest your hard-earned money where you deserve, and make the most of the sartorial pay-off. There's going to be A LOT of memories, not to mention photographs, living on after the big event.
The Guest
Best dressed guest? It's in your power. Now, is it about throwing on your best suit and hoping for the best? Or is a new one required for the occasion? We bet the latter. Again, should you follow the groom himself or is the wedding casual enough to let people dress in a range of tailored looks? The wedding invite will make things clearer and spell out any dress codes as appropriate.
Our general tips are to have your suit planned and tailored in good time. No one likes a last-minute outfit rush. Consider weight fluctuations and potential final fittings to get your look just right. There's also that final flourish to consider. Are the wedding party all wearing Royal blue for instance? There's ways to flex that particular colour into your own look so the whole event feels stylish. It could be your shirt, socks, pocket square or even your suspenders. Little details like this make weddings the special events that they are.
For further expertise, don't hesitate to pop into your nearest Ascots & Chapels store or simply give us a call. We've got decades of experience in weddings and can't wait to whip you up the perfect suit for it – whatever you're attending as on the Big Day. Chat soon!
---
Author: Gary Sweeney
---