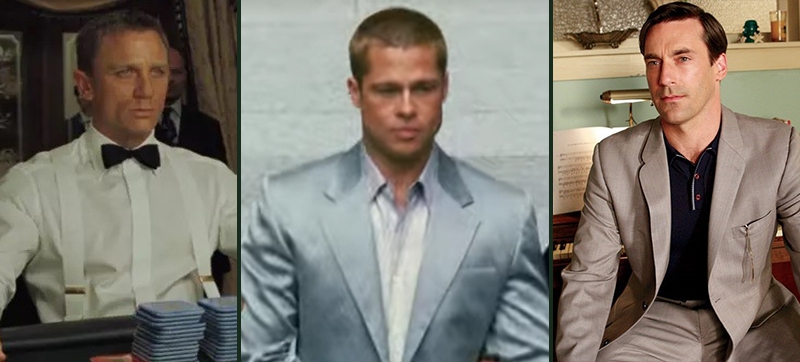 Gents, when it comes to menswear, there are a lot of rules. 'No brown in town!', 'Match your shoes to your belt', 'Always wear socks under a suit'… And while we agree that a tan belt and black shoes is never going to do anyone any favours, we also believe that some of those rules are, well, tosh.
Rules, it is often said, are made to be broken.
To help illustrate our point, we've chosen four sartorial superstars who broke suit etiquette and pulled it off. Let's take a look.
Rule to break: Black tie requires a traditional dress shirt
Traditionally, proper black tie calls for a stiff dress shirt with a Marcella bib and a turned-down collar for the bow tie. The shirt should be double-cuffed and will require cufflinks too. Studs are the most traditional and more formal fastening for a dress shirt. So far, no room for manoeuvre.
Well, never say never.
If there's one man who's going to get away with bending the rules, it's a man who dresses to kill – 007 himself. Style and Bond have been bound up for more than six decades now, and he never gets it wrong. Well, almost (ahem, Sean Connery and the terrycloth romper).
This man dons black tie more times on a single mission than most of us do in a lifetime, so we're not surprised that he's inclined to shake things up a little. And shake he does.
There are countless examples, but we're fans of Daniel Craig's take on the formal dress code in Casino Royale.
First off, Bond forgoes a cummerbund and waistcoat for a more modern, carefree look (and to give more airtime to Craig's abs, no doubt). Instead of a stiff, formal shirt, he's opted for a white-on-white waffle weave shirt with a spread collar. And, instead of a pleated front or pique bib, the shirt features a placket with hidden buttons.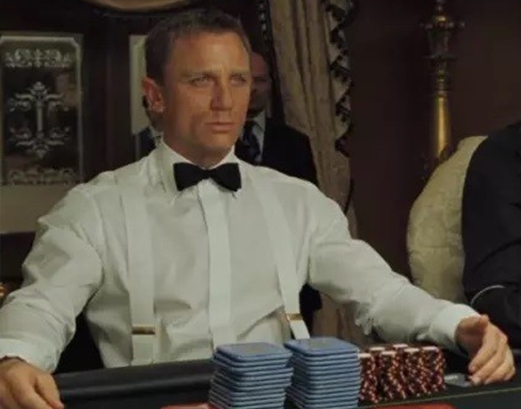 It's far from traditional, but we say give it a go.
Rule to break: Never break up a suit
For years, men had three options when it came to suits: brown, grey or black. Only a fool would mix them.
And then, a fresh-faced Richard Gere stepped out in American Gigolo – a film only remembered for its sartorial chutzpa – and inspired a whole generation of slouchy menswear and suits that don't quite match. 
Goodbye boxy, crisp and buttoned-up. Hello, lighter colour palettes, softer fabrics and the 'undone' suit.
He occasionally manages to put on a full suit, but for the most part, Gere darts across Los Angeles in his Mercedes Benz sporting separates.
If you're not familiar with the term, 'separates' are items of tailoring that don't come from the same suit. They tend to strike fear into the heart of anyone who attempts it, but they shouldn't.
As Gere demonstrates, the key is to select fabrics that work well together and avoid structured tailoring – or anything that looks like it's obviously part of a two or three-piece suit. You want to create contrast with colours that work well together but aren't too similar. No one wants to look like they got dressed in the dark.
Gere nails it.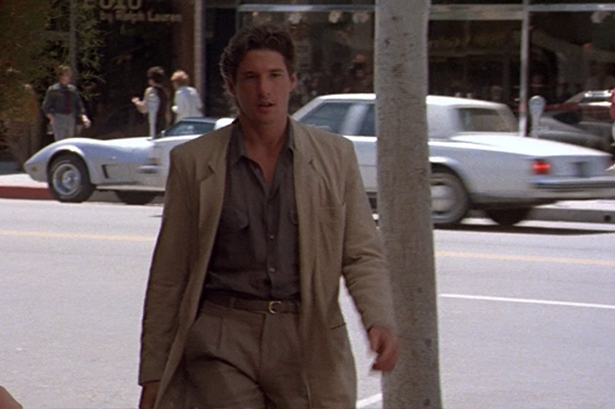 Rule to break: Wear a dress shirt under a blazer
Don Draper's suiting game is unmatched. He's consistent too. His sharp suits are almost always grey, and his shirts uniformly white, with a plain point crisply starched collar.
And then, he surprised us. He slipped a polo under his jacket – and it really worked.
But trust us, it's not an easy look to pull off.
Don's look works well for a few reasons. Firstly, he's kept it simple with a solid polo, avoiding any stripes or collar detailing. The collar has some structure too, so it doesn't flap out of his suit. The simple silhouette is textbook Draper, but manages to look equal parts sporty and dressed up.
We're here for it.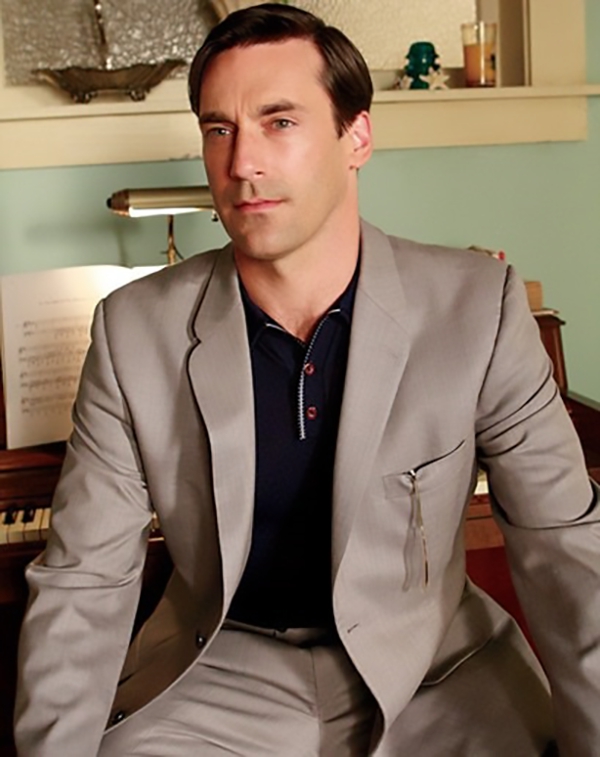 Rule to break: Never wear a suit jacket without a tie
Once considered a marker of distinction and class, the humble necktie has always been about more than accessorising your neck. For many, wearing a suit without a tie is a sartorial no-no.
But there are exceptions.
We're not suggesting you turn up at your wedding without one. But, for the right occasion, going tie-less can achieve a sleek and sharp casual look.
Rusty Ryan (aka Brad Pitt) in the Ocean's Eleven franchise demonstrates this perfectly. This suave right-hand man has an eye for a bold ensemble and isn't afraid to break some rules along the way.
Just take a look at this blue silk suit in Ocean's Twelve. Made from lightweight silk and wool, the single-breasted suit jacket bounces in the light. And beneath it? A silver satin silk dress shirt with a large collar, front placket and no tie.
It shouldn't work, but it does.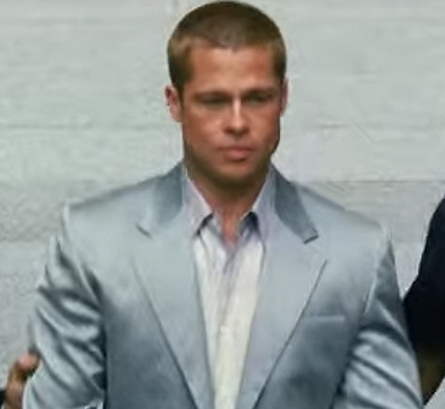 Ready to break some rules? We look forward to seeing you soon, gents.
---
Author: Gary Sweeney
---