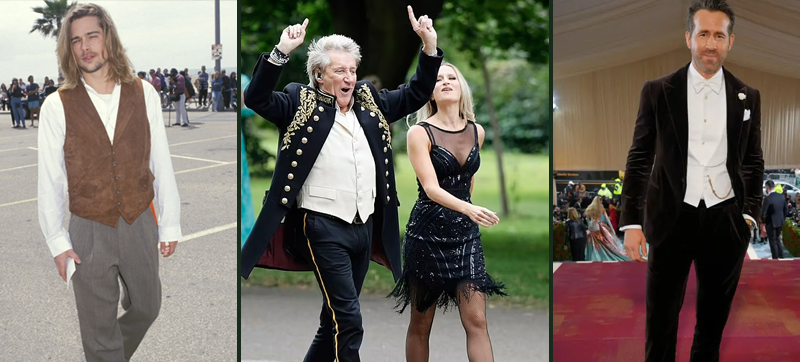 We're getting straight to it with your very own bespoke vest guide. Not the bulletproof kind, the stylish kind. So what's an in-style vest (or as we British bespoke types call it – the waistcoat)? When do I wear one? What should the design look like? And so on and so on. These will all be questions of the past once you've read Ascots & Chapels tailor's blog on the subject.
"Vests are flair for men. It's one of the few ways men can accent themselves in a formal yet fun fashion."
American comedian Eric Wareheim
We're stating it now. 2023 is going to be the year of the waistcoat. While some seasons may have overlooked the power of a great waistcoat, this won't be one of them. Because you can work the soon-to-be key piece with your smartest suit and everyday jeans alike.
Let's talk about the weather first. How very British. The temperatures are a little bit cooler at the moment so what's not to love about an extra layer? Waistcoats can keep you that bit warmer, while adding a very dapper touch.
A sleeveless upper-body garment, the waistcoat can be worn formally over a dress shirt and necktie and below a jacket. In the traditional three-piece male suit, it's sported as the third piece. Historically, it would have been worn in place of or underneath a larger coat, varying due to the weather, event or setting. Nowadays, waistcoats can be ornate or simple, luxurious or leisure-appropriate. For semi-formal wear or daytime formal dressing, the waistcoat might be in a contrasting colour. Perhaps in an off-white or dove grey tone for morning dress or the black lounge suit. For white tie and black tie, though, the waistcoat will of course be in white and black respectively.
"I'm wearing a suit, with a vest!"
American journalist, author, TV personality and political commentator Robert Novak
These days, fashion trends come and go and ideals around style are more flexible. So, if you think you can pull off a hot pink waistcoat, for example, be our guest. Naturally, we advise to err on the side of caution for long-lasting style credentials though. Having waistcoats in say black, navy, grey and cream would ensure you're sartorially covered for whatever that year's calendar may throw at you. Don't forget to discuss with your Ascots tailor the finer details, such as the buttons to choose. These luxe final touches (trust us, we've got hundreds for your consideration) can make the difference between an average waistcoat and a superior design piece.
As for fabric, this depends on what you're wearing with the waistcoat – and when you plan to wear it. Winter may call for heavy tweeds and wool blends, while a European getaway may warrant linen or lightweight cotton options.
Want some celebrity inspiration? We've got you.
In case you needed solid proof that waistcoats are cool, just look at Brad Pitt in his 90s brown suede waistcoat – it's giving minimal tailoring a memorable twist thanks to its Western style inspiration. And it looks as amazing in 2023 as it did back in '93 (yes, we are boldly going back 30 years to make our point). Matching the actor's longer locks perfectly, the look is elegant yet carefree – just what you want to go for with your own waistcoat ensembles.
And beautifully showcasing to us all that style is ageless, Rod Stewart (who is in his late seventies) chose a vest for one of his London-based music videos. With tonal buttons and flap pockets, seam detailing and a flattering fit, he styled it with a brocade long-line jacket blending a little English eccentricity with fabulous tailoring for a rockstar-approved outfit you could mirror for special occasions.
Let's round things off with Reynolds' take on the waistcoat, as seen at the prestigious Met Gala. Adorned with chain detailing from the tonal buttons, the actor shows how to add a touch of glamour to proceedings, which is perfectly played alongside his impactful velvet suit with peaked lapels, and his dressy bowtie and polished leather footwear. The formal waistcoat really pulls the whole look together for the red carpet – or your next VIP event.
Ready to add the perfect waistcoat (or three) to your collection? We thought so. See you soon at the tailors very soon!
---
Author: Gary Sweeney
---