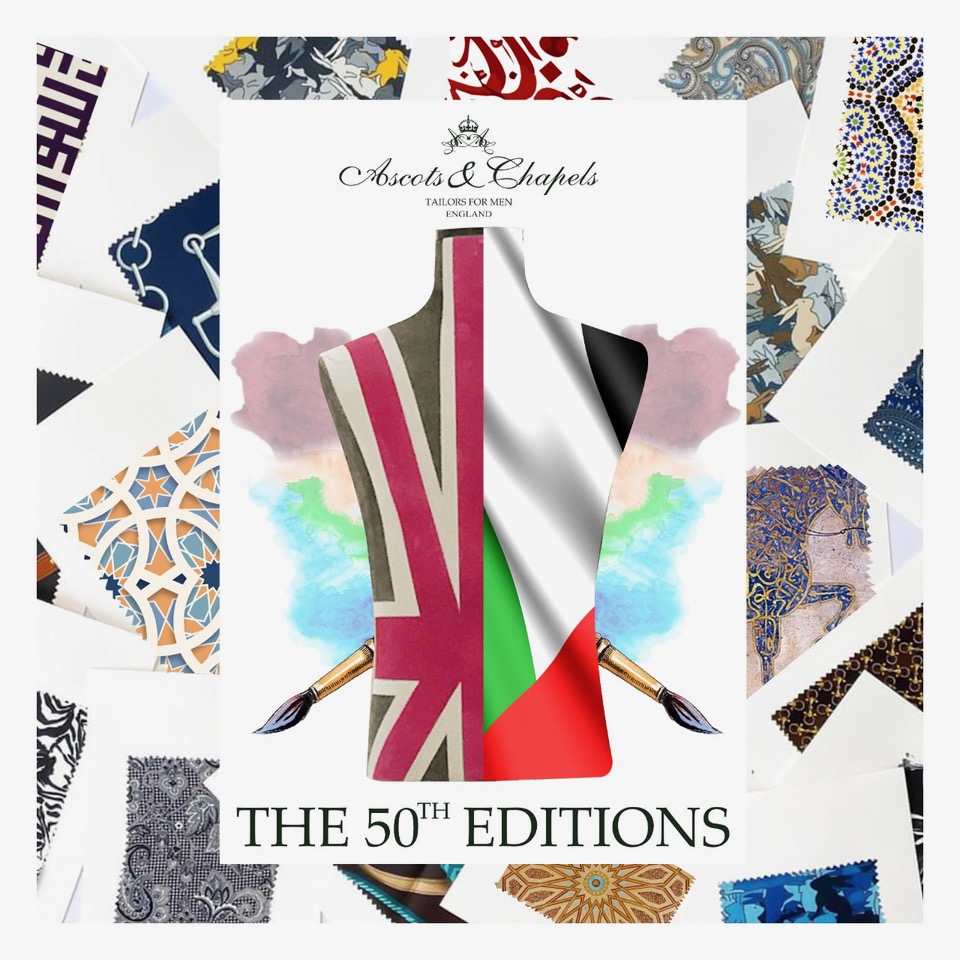 In celebration and commemoration of the Year of the 50th, renowned British heritage brand, Ascots & Chapels is excited and honoured to announce their new CSR campaign 50th Edition's, in support of locally-based artists in the United Arab Emirates, with a wearable art 'open call' for all artists and designers.
From students to full-time artists, illustrators to graphic designers, the 50th Edition's campaign will be open to all, and see the brand team up with one up-and-coming UAE based artist every month starting in January 2022, to create unique one-of-a-kind artworks that will adorn the inner linings of their hand-crafted bespoke men's jackets. The artwork created by the artist will be inspired by the Year of the 50th and pay homage to the rich heritage and culture of the UAE. The original artworks will also be displayed in the windows at Ascots & Chapels boutiques located across the UAE during that month.
Ascots & Chapels boasts stores at prime retail locations across the UAE, including Dubai International Financial Centre and Marina Mall Abu Dhabi, ensuring incredible widespread exposure for the final artists who will be successful in having their submissions chosen to collaborate on this exciting design project.
With this new endeavour, dedicated to fostering artistic expression, creativity and social responsibility in the local artistic community, Ascots & Chapels aims to give back to the UAE by supporting young artists and designers with a public platform to share their work, while also creating one-of-a-kind prints that will adorn their renowned hand-crafted bespoke jackets, which will also be available to customers throughout the Middle East.
The open call for 50th Edition's is open to all artists, designers, illustrators or graphic designers, residing full-time in the United Arab Emirates, from absolutely any background, age or Nationality. Submissions can be sent to opencall@ascotsandchapels.com or visit ascotsandchapels.com for more info.
For more information, please contact ruth@ruthbradley.ae or hiba@ruthbradley.ae.
---
Author: Gary Sweeney
---