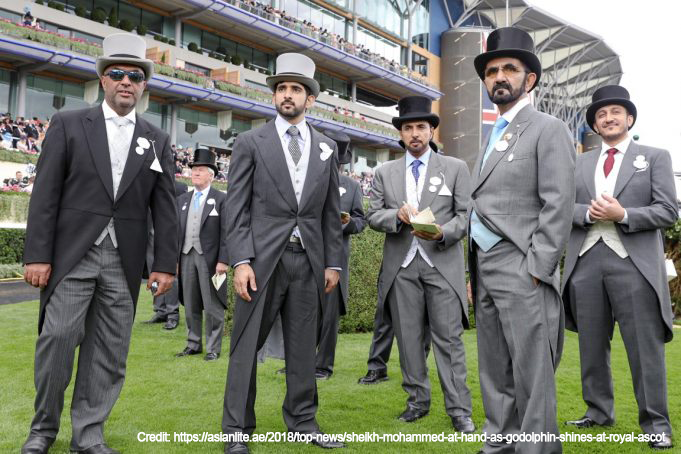 "There are some people who live in a dream world, and there are some who face reality; and then there are those who turn one into the other." Douglas Hugh Everett, British chemist and author
Save the date
What are you doing on Saturday, 26th March? Chances are, gents, you'll be attending the Dubai World Cup – alongside our Ascots & Chapels team members. Back with a bang in an (increasingly) post-pandemic world, the Thoroughbred horse race has been going strong since 1996. Guests enjoy a fantastic event of nine races, with eight Thoroughbred contests and one Purebred Arabian contest.
Set on the last Saturday of March annually, it's famous for being one of the world's richest horse races. So it goes without saying that the clientele are successful and the outfits wild. There's a creative energy, with loud, standout outfits all fighting to be seen.
Award-winning fashion
In fact, there's even a Style Stakes fashion competition! With exceptional prizes to be won. Hundreds of attendees enter and it includes categories such as Best Hat, Most Creative Hat, Best Dressed Lady, Best Dressed Couple and… drum roll, please… the Best Dressed Man. There's also runner-up prizes for Best Dressed Man and Lady. With stylist, fashion critic and designer judges to impress, it's no mean feat to win.
"More is more, and less is a bore." Iris Apfel, American businesswoman, interior designer (and style icon)
So without further ado, it's time to confirm your attendance… and have your winning suit tailored with us.
So where do I start with my look?
This is a world-class event. Off-the-shelf suits simply won't do. Bespoke tailoring is in.
Stay true to your personality – but perhaps amped up a notch – with elegant linens and smart tailored separates. To really turn heads, you'll want to consider bolder, louder, wilder ensembles. Would you go for a bright hue like canary yellow or fresh mint green? Maybe you're more about statement monogramming on your suit? The day is your circus so turn to the rainbow, invest in the extra and have fun with it.
What takes my outfit to the next level?
Beyond superior tailoring, remember this day is all about peacocking. Yes, we said it. Highlight your strong points and stand out from the competition. Flashy accessories can help take you there. Our favourites include the over-the-top top hat (think a silhouette that you wouldn't usually have the occasion to wear) and statement shoes, such as the plush velvet loafer or a dressed-up pair with logo play and glitzy embellishment.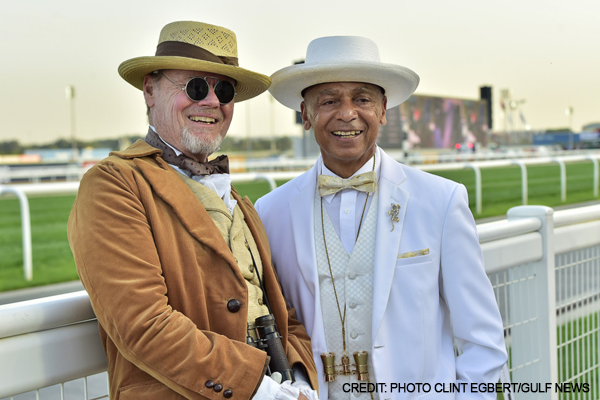 Something that's not as in-your-face? A timeless pocket watch. Naturally, you don't want to bring down your handsome suit – so opt for a luxury design that will last a lifetime.
Playing it safe
Not everyone feels comfortable in a hot pink tux or a neon tie. So if you sway towards more traditional attire, what's your best bet? We say: keep it VIP. We're talking made-to-measure perfection, quality fabrics you don't find anywhere else and classic suiting that never looks out of place. Important attendees such as the Royal Family stick to the classics, always in traditional garb. You could take a leaf out of their book with a grey suit picked out just for your skin tone or the traditional morning coat – an age-old success.
Originating from nineteenth century horse riding, the morning coat sports a single-breasted cut with one button (rarely two) and pointed lapels. Try silk piping on the edges of your coat and lapels for an extra sleek finish. Layer over a waistcoat of matching luxury material and formal trousers, worn with smart braces. Your pièce de résistance? The top hat, of course. It's not a strict essential but we're champions of it on this occasion to truly elevate your whole look.
Remember, this is a prestigious event steeped in modern history. It brings worldwide intrigue so if you don't feel comfortable flexing a 'look at me' contemporary trend, it's always wise to invest in sleek tailoring that's forever.
Prepare and go forth
"Never mistake movement for action… a rocking horse moves; a race horse charges towards a goal." Johnnie Dent Jr., American author
The Dubai World Cup is absolutely huge for the United Arab Emirates at large and it's known the world over to be a pioneering, super-glamorous affair. We're excited to see the fashion industry write-ups featuring best (and unfortunately worst) dressed attendees so do make sure you're in on the fun and in on the – tailor-approved – style. Simply visit your favourite store for a consultation, suit planning and fitting at your earliest convenience. We look forward to perfecting your race look and seeing some of the finest stars from all over the world this March.
---
Author: Gary Sweeney
---