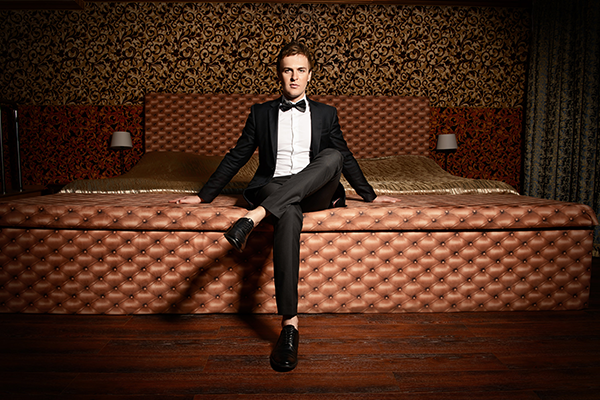 "You gotta wear the right trousers if you're gonna be a rockstar."
Chris Martin, English singer, songwriter and musician
Who wears the trousers? You do, sir. So make sure yours are tailored to perfection. In this failsafe guide, we cover what you can and cannot get away with when it comes to wearing trousers – from skinny pants, looser fits or straight-leg looks to showing the ankle (or not as the case may be).
Remember, if you ever need more information or an in-person run-through, simply pop into your favourite Ascots & Chapels tailors and we'll be more than happy to assist you. We always cover the basics on our blog but it's great to give you a thorough style check when we meet face to face too.
"Where I went to school, Eton College, we had to wear dark trousers, a tailcoat, and a stiff, starched collar every day, and that was fine with me. Part of the reason I wanted to go there was because I've always loved dressing up."
Charlie Siem, English violinist and model
Trouser ground rules
Before we get into the various styles of trousers, let's take the time to set a couple of sartorial rules, so to speak – to avoid any trouser mistakes.
Coming right up is your trouser dos and don'ts. Overall, the trick is to avoid extremes! So that's making sure your trousers aren't too tight, triple checking the length to make sure they're not too short – or too long for that matter. And, of course, they need to feel comfortable around your waist, whilst looking smart and not falling down. Again, it's all about not being too tight or too large.
"I quite fancy the 1940s. I like the trams and the trousers."
Dylan Moran, Irish comedian
Pleated trousers
Classic and smart, pleated trousers are never out of style. If they're created with expert attention to detail that is. Folds at the waist allow a little extra room at the front and back; so they're perfect for work and weekend alike when you're looking for a truly comfortable fit.
Of course, there's different leg widths and lengths to choose from, as we get into the details below.
Slim-leg trousers
Hit the right notes with a slim-leg trouser. This style always has a certain elegance to it. It's a classic that can be dressed up or down: a slim-fit chino with a tee on Saturday afternoon, a front-pleat style with your smartest shirt for Monday morning.
Unless you're super-brave and love trying new trends, we advise you to avoid going too skinny on the leg. It's usually not masculine, flattering and it won't age too well either.
Wide-leg trousers
This is a trend we're seeing a lot more of with the return of 90s fashion and the rise of the oversized silhouette. It's one that stars like Harry Styles are firm fans of. For weekend fun, a wide-leg cut is fine if you're balancing it out with a slim-line tee or smart sweater. However, a very wide silhouette isn't recommended for the workplace.
We'd try this one for social occasions only – see if you can recreate that European flair with your tailor for next month's plans. Oh, and you need some confidence to pull a wide-leg off. Otherwise, you may end up looking like you borrowed your grandfather's clothes!
Trouser styling tips
With properly tailored trousers, there's no need for a belt. However, if you choose to accessorise with one, then please make sure it's crafted from quality leather and offers a simple, sophisticated buckle (rather than anything too garish).
Ankles covered or on show? For the summer months, a flash of ankle is acceptable but be aware that it is a look that divides opinion. If you're visiting your in-laws for the first time or have a formal event to go to, we don't recommend tight trousers and a lot of ankle on show.
If your trousers aren't cropped and are supposed to hit just above your shoes, then avoid accidental hairy ankle flash when you sit down by investing in smart socks. They're often overlooked when pulling together your whole ensemble but a line-up of luxury pairs truly look and feel amazing.
The break
Heard of the break? No, we're not talking about your mid-morning coffee and biscuit, but about the break of a trouser, which refers to the point where they touch your shoe. This is really important to pay attention to; an incorrect break can, well, break your outfit. It affects the length of your trousers and overall put-together appearance – too high and you look like you're wearing your son's gear, too low and it's like you're dressing up as dad for the day.
But did you know that the science goes deeper than a perfect break for all? If you're on the tall side, a full break ensures your body looks in proportion. And if you're shorter, then go for a short break as it can actually make you appear taller.
"Suits change a lot. The wide lapel thing, the fashion trends, the trousers change."
Jason Statham, English actor
Be clued up like Jason Statham. Update your priorities, clear that schedule and come and visit us today for your next pair of perfectly tailored, up-to-date trousers. We've got trousers on the brain.
---
Author: Gary Sweeney
---