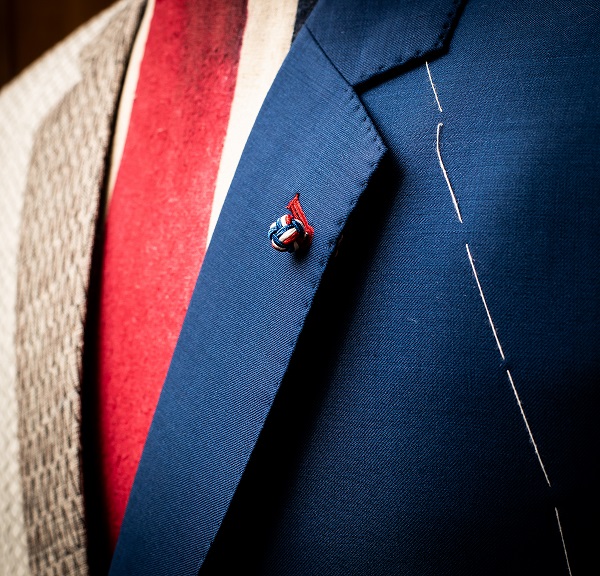 A rainbow of suits (and when to wear each colour)
There are arguably seven colours in the colour spectrum. But realistically, there are an uncountable number of colours in the universe. But what's all that got to do with Ascots & Chapels? Well, it means plenty of options for a stellar wardrobe of different coloured suits.
Find out about our top colour recommendations below, including what suit to wear when. Far from whether it's your personal favourite or not, it can be down to occasion and the impression you're trying to give off. Above all, you'll want to ensure you choose the colours that are right for your skin tone. Because it doesn't matter if cream is a great, calming colour – if it washes you out, you won't look your best in it.
Here's our colourful take:
Black
Classic black is known as fashion's favourite colour. The black suit is the most likely colour of suit seen on the red carpet in Hollywood and beyond, and its fans include singer-songwriter John Legend, actors Bradley Cooper, Idris Elba, Brad Pitt and Leonardo DiCaprio, and footballer David Beckham – to name just a handful!
So when's best to rock this style? We recommend avoiding it for work and keeping it aside for special occasions or choosing it as the perfect option for when you really want to make a good impression in a formal setting. The colour black signifies a very smart look, sophisticated and elegant – and completely uncontroversial so you can be sure to turn everyone's head for the right reasons.
Navy
Navy is one of the darkest shades of blue and flatters most skin tones. We believe a navy suit is best worn to super-important business meetings when you need to make a winning first impression, or if you want to show your authority and make sure everyone knows who's boss. It's a definite power colour, it's conservative and it will give you the confidence to take charge (as long as your suit is well tailored, of course).
Celebrity fans include model David Gandy who has been known to rock navy tailoring front row at fashion weeks, actor Ryan Reynalds who has worn a navy suit several times on the red carpet at film premieres and special events, and musician LL Cool J who's been seen in navy and matching accessories. This shade is certainly trending at the moment (and works all year round).
Grey
The grey suit is also an Ascots & Chapels favourite – plus it's one of 2021's colours of the year. From singer Joe Jonas to celebrity chef Gordon Ramsey, actor Daniel Craig to rapper Jay Z, most men look great in grey. The colour is dependable, strong and is even said to show loyalty. Why's this important when it comes to suit colour? Well, wearing grey shows that you can be relied upon. It's perhaps not as power hungry as the aforementioned navy suit ensemble but it's still smart and professional. When you don't want to come across overly formal or like you're trying to assert your authority a bit too much, grey's the ideal choice. It's a solid colour for an interview – try it and let us know how you get on!
Neutral Tones
When we say neutral tones, there are a load of shades that can fit into the category. Think easy-on-the-eye pared-back hues, which could include cool or warm greys, beige, sage and light browns. Rather than saying "I'm an important businessman", a neutral suit shows off your character and lets people see that you're down to earth.
The neutral suit can cut a more approachable silhouette – friendly vibes, more casual in style – and best worn when you want the people around you to feel comfortable and relaxed in your presence.
For inspiration, see actor Chris Pine out and about in his double-breasted linen suit in ecru or turn to the one and only Barack Obama who has sported vintage-style stone-coloured suited looks over the years.
Yellow
2021's second colour of the year (along with grey, above) is our wildcard colour for the daring, super-stylish gents out there. Actor Johnny Depp rocked a golden yellow suit back in the 90s and it's rising to fame again with the likes of singer Harry Styles – who rocked a statement yellow suit to The BRIT Awards last year. A cheerful colour, yellow feels like a timely choice as life returns and you don't have to go canary toned to make a statement in your wardrobe. Nod to our top trend of the moment in fresh lemon (a spring/summer favourite) or mustard tones that will work well into fall as well.
As it's so hard to choose a favourite – and they all have their place in your wardrobe – we certainly recommend ensuring you have a suit (or two) in each core colour.
Need any assistance or style advice? Our master tailors are on hand to run through each shade in more detail and will help you select the best hues and fabrics to suit you and your schedule. What's more, we can offer professional colour consultations to help you pick out your most flattering shades.
---
Author: Gary Sweeney
---